Luxury Easter Egg Competition 2005
24 January 2005
Guess who - It's Mike Simpson!!!

Guess who this (competent 'young' athletic) windsurfer is and win a luxury Easter egg…
Ok no one has got this yet so here are 5 more clues!!
The windsurfer in the photo was born in Germany.
Has tap danced on TV (Junior Showtime - starring Bobby Bennett)
Often helps youngsters get their kit safely through the shore break
Likes to go out in a kayak and catch mackeral for the BBQ.
Is no stranger to a drop of red wine.
The picture was taken in 1987 on the Greek Island of Lesbos where the windsurfer in question was on holiday with his wife of 2 years (who's middle name is Tracy).
The windsurfer in the picture is now 41 years old and is a familiar face at most UKWA racing events which he attends with his family.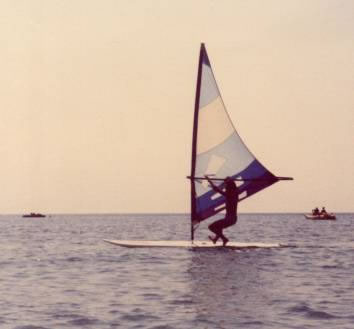 Closing Date extended: Entries to be sent in to Arabella (email or by post) by 22nd March 2005 (please include your phone no.) as we will post it to you if you are not going to Cornwall. Further clue: person in the photo will be at Marazion to present the egg (if you're there).
Email: info@ukwindsurfing.com
Address: 12 Beach Court, Old Fort Road
Shoreham Beach, West Sussex BN43 5RG