New sponsor - Pure Blue Water
19 May 2005
Pure Blue Launches in Cornwall

New Cornish water sports business Pure Blue was officially launched this weekend in Newquay, Cornwall. The company offers a range of natural mineral water drinks and clothing and is dedicated to supporting pure water sports and clean ocean initiatives.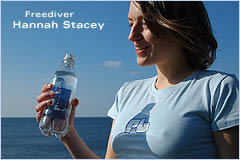 Pure Blue has teamed up with some of the top names in pure water sports in the South West to Promote Pure Blue through 2005. One of the UK's hottest surfers, Exeter based Josh Lewan , 'world freediver of the year' Porthleven's Hannah Stacey and top British windsurfer Phil Horrocks are just three of the new 'Team Pure Blue' names covering all natural water sports under the 'ride - sail - dive - row - swim' theme.

Started by a group of surfing and sailing enthusiasts Pure Blue has been testing the market for the last month and their perfectly balanced pure mineral water, in both still and sparkling varieties, can already be found in a number of cool coastal locations across the South West. The water is in a fantastic bottle which has different back reflection water sports images, such as surfing and freediving. Richard Lawrie of Pure Blue says 'the initial response has been fantastic with so many people getting behind what we are doing'.
Ongoing Pure Blue will be donating at least 10% of their profits to support clean ocean initiatives, supporting organizations such as the Surfers against Sewage and the Marine Conservation Society. Indeed Pure Blue have already become the founding partners of the Marine Conservation Society in their efforts to 'keep seas fit for life'.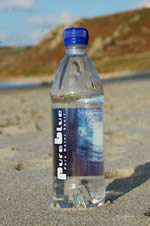 The official launch was on Saturday night at Red Square in Newquay which saw the venue celebrating to the sounds a Newquay's favourite band, Chunky Kustard.
Look out for the Pure Blue Water in cool café's, bars, restaurants and stores across the South West. You can check out their clothes (and surf boards) and more at the very cool www.purebluewater.com.