Speed Week
17 October 2005
2005 Report from Amy Carter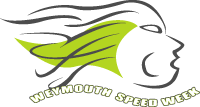 This year the Weymouth 'International' Speed Week attracted a record number of entries from England, Wales, Scotland, France, Germany, the Netherlands, Spain, Sweden, Austria and the Channel Islands, who were all there for one reason, to go as fast as possible down a 500m course in Weymouth harbour, and break the current record of 36.18knots set by Bjorn Dunkerbeck the previous year.
The pre-event activities started on the morning of Friday 7th, with a windsurfing speed master class by speed gurus Bjorn Dunkerbeck, and Britain's own Dave White. Many of the competitors gathered round for top tips on boards, fins, sails, and stance, all of which I'm sure proved helpful during the week ahead.

After registration and a briefing on Saturday morning, the competition got into full swing. With a gusty 12-18knots a course was set up, and for the afternoon windsurfers, kitesurfers, and boats sped along the course, trying to get as smoother run as possible. At the end of the day I had the fastest women's time of 24.46 knots, with Dan Ellis taking top spot in the mens with 28.47knots, and fastest junior being Dan Simpson with 24.90 knots.

For the rest of the week the wind came and went, not really delivering what was expected, and for most people it wasn't until the final Friday that some faster speeds were clocked. In choppy conditions Zara Davis got an impressive run of 24.32knots, but fortunately for me she could not go faster than my speed from earlier in the week, leaving me as fastest female. Frenchman Dave Garrel and 'Windy' John Sanderson, had both been hot on the heels on Dan Ellis, but on the last day Dan proved he could not be beaten, as he extended his lead with a run 29.07knots.
Fastest kite of the week went to Ludo Brockway with 23.95knots, and fastest boat was Charles Thompson in his Tri-foiler which recorded 27.93 knots.

The week ended with the prize giving where prizes were gratefully donated by Windtek, T1, Naish, Tushingham, Club Vass, 604 Distribution, Fibrespar, and Maui Sails, and then a rather nice meal at a posh restaurant in town! Despite the wind gods not really being on our side I'm sure everyone had a brilliant week, especially Mark Newman, 1st Amateur, who won a holiday to Club Vass for himself, and wife Clare, who incidentally placed 3rd in the ladies fleet!

I would like to say thank you to everyone involved with the organisation of the event for making everything run as smoothly as possible, and to all my sponsors for supporting me so I could make it there.
Amy Carter - GBR85
Sponsored by Starboard, Tushingham, Sola Wetsuits, Dakine, Funk Sunglasses, Kangaroo Poo, and Offshore Sports.
Pics courtesy of nick povey and clyde waite.
More pictures are available from www.racelines.org.
Overall Results & Prize Giving
Overall
Fastest sailor & winner overall

Dan Ellis 29.07 kts Thommen T1 Shield & Harness from Naish

2nd fastest

John Sanderson 28.61 kts

3rd fastest

David Garrel 28.59 kts
Youths
The Tushingham Youth Trophy for the fastest under 17's was awarded on Sunday night as the youths can only compete over the weekend.
1st fastest

Dan Simpson 24.90 kts who received the Tushingham 'Fastest Youth Shield' and a sail from Tushingham

2nd fastest

Richard Jones 24.61 kts - Tushingham mast base

3rd fastest

Sam Gooch 23.47 kts - Tushingham uphaul
Ladies
Fastest Lady

Amy Carter 24.46 kts - Windtek "Fastest Lady" shield & Harness from Naish

2nd fastest & winner overall

Zara Davis 24.32 kts

3rd fastest

Claire Newman 19.49 Kts
Novices
Fastest Novice

Mark Newman 24.95 kts who won a Holiday for two from Club Vass

2nd fastest

Eddie Murrell 24.21 kts - North sail from 604 Distribution

3rd Fastest

Neil Hardwick 23.93 kts - Mast from Fiberspar
Masters
Fastest Master (Over 45)

Robin Penna 25.30 kts Windtek "Fastest Master" shield

2nd fastest

Peter Davis 25.16 kts

3rd fastest

Eddie Murrell 24.21 kts
Boats
Fastest boat

Charles Thompson Tri-foiler 27.93 kts - Sports bag from Maui Sails

2nd fastest

Joddy Chapman Demeter 18.97 kts

3rd fastest

Calle Hennix and team - SeaCart 30 18.90 kts
Kites
Fastest Kite

Ludo Brockway 23.95 kts

2nd fastest

David Williams 23.56 kts

3rd fastest

Michael Pacey 23.05 kts
In addition each day the fastest Boat, Windsurfer and Kite receive an engraved tankard provided by the Amateur Yacht Research Society. The prestigious Portland Pot, also donated by the Amateur Yacht Research Society to be awarded to the competitor who in the opinion of the organising committee encompasses the spirit of Weymouth Speed week was awarded to David Garrel from France.
Kangaroo Poo donated tops & wallets that where given to the support team & timers without who's help Weymouth Speed Week could not go ahead.
We would also like to thank, in addition to all the organisations that donated prizes, Weymouth & Portland National Sailing Academy, Weymouth & Portland Borough Council, AYRS, Windsurf Magazine and Red Bull.