Results for Weymouth speed week
11 October 2005
Day one, 8th of Oct.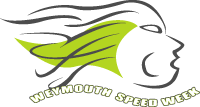 (Report courtesy of Pete Davis.)
Bjorn Dunkerbeck joined us for the Start of racing but had to leave for Namibia at 2.00 pm leaving in the lead on 25.91 kts. The wind then built leaving the other competitors to make full advantage of the stronger winds.
Fastest Boat:

Joddy Chapman on Demeter 18.97kts

Fastest Kite:

David Williams 23.56kts

Fastest Windsurfers:

Dan Ellis, 28.47
David Garrel 26.99
John Sanderson 26.22

Fastest lady Amy Carter 24.46
Fastest Junior Dan Simpson 24.90
Day 3, 10th of Oct.

Day two & three have not been kind in wind strength or direction resulting in competitors using big kit & offshore boat course's. Having said that we have had some reasonable results in 9 to 13 knots of wind turning into 20 + knots of speed.
We have had two film crews here, this week Noughts & Ones TV who are producing a DVD of Weymouth Speed week featuring archive footage & interviews with the stars including Bjorn Dunkerbeck, David Garrel, David White & Dan Ellis. Plus all the on the water action of the competitors, look out on our web site www. speedsailing.com for details. Also we have Beyond Tomorrow TV from Australia focusing on a program for Discovery Channel looking at the technology of going fast on the water.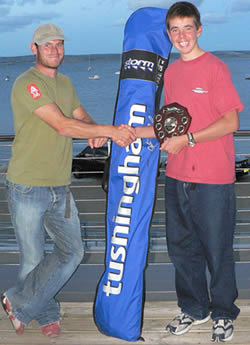 The Tushingham Youth Trophy for the fastest was awarded on Sunday night. The under 17's were amazingly close with all achieving over 20 knots in light conditions with only 2 knots separating the lads.
Dan Simpson 24.90 kts (made all the more satisfying having pushed French Champion David Garrel into 3rd place on the Sunday)
Richard Jones 24.61 kts
Sam Gooch 23.47
Sunday 9th Results
Fastest Boat:

Joddy Chapman on Demeter 15.69 kts

Fastest Kite:

Mike Pacey 13.95 kts

Fastest Windsurfers:

Nick Scott, 21.11 kts
Dan Simpson 19.95 kts (Plus fastest junior)
David Garrel 19.63 kts

Monday 10th Results
Fastest Boat:

Joddy Chapman on Demeter 16.43 kts

Fastest Kite:

Ludo Brockway 18.47 kts

Fastest Windsurfers:

Dan Ellis 22.95
David Garrel 22.70
Pete Martin 22.33

Fastest lady Amy Carter 19.03