Windsurfer of the Year
21 November 2005
Dan Ellis GBR 52
The UKWA Windsurfer of the Year Trophy is awarded in recognition of the windsurfer who has made a significant contribution to the sport of competitive windsurfing in the year.
Skill and achievement are important, but the Windsurfer of the Year also has to make a contribution to the growth and development of our sport and show an attitude that is an inspiration to others.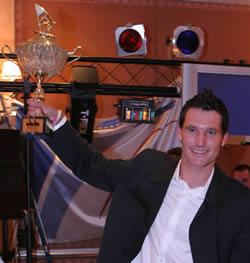 Dan Ellis started the year by winning the Asian Tour, taking the title of 1st Pro Man. He followed this with a 3rd in the European Slalom championships. At the IFCA Worlds in Fuertaventura he took the ISA production board speed title and followed this as fastest at Weymouth Speed Week. At the WhiteAir Extreme Sports festival he showed all those on the beach the combination of speed and skill that saw him winning every heat outright to take the title. At the PWA World cup at Sylt he fulfilled a childhood dream and beat his childhood hero, Dunkerbeck, for the first time. 'The first qualifying heat must have put a huge grin on Dan Ellis's (GBR-52, Fanatic/ Naish) face as he led the pack throughout the heat, nailing it with Dunkerbeck breathing down his neck'. He has ended the year in the top 10 in the PWA Racing World tour.
His success has been recognised by the coverage he has been given in the magazines. His articles have really raised the profile of the racing side of competition in the UK.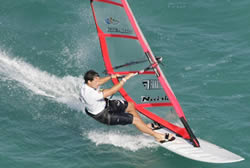 He organised the first Fanatic Camel Cup and training camp in Dahab and organises coaching sessions before events in the UK.
Dan has missed a number of UKWA events this year while he competed abroad. That hasn't stopped him from pitching up whenever he can and giving the rest of the fleet a run for their money. And at each event he is out and about lending a hand with the boats, encouraging and advising newer sailors, lending his kit to give others a chance to join in and picking up the microphone to keep spectators informed. His infectious enthusiasm for competitive windsurfing has always been in evidence. And to cap it all 'he hasn't shouted at the race crew once this year' observed the race crew member when his nomination was being considered.
Dan is sponsored by Fanatic Boards, Naish Sails, 604 Distribution and Sola Wetsuits.
On his web profile Dan says 'I'm on a mission to spread the word that windsurf racing is cool, it's extreme, it's challenging and it's exciting'. You'd better believe it!