World Youth and Masters Championships - Poland
12 September 2005
Sopot N Poland, Dave Gilchrist reports
It was a great event with good cross section of winds ranging from F5-6 on first day, too much for competition (in the opinion of the race team) on the second day through to medium to very light winds on the reamining 3 days. The event was scheduled to be for 10 races but in the event only 9 were raced due to lack of wind on the last day. The event had been changed in June to incorporate the possibility of including the new RSX board and sails and therefore our world raceboard category had suddenly been upped in sail size to 9.5m for the men and 9m for the ladies. Additionally in an attempt to boost numbers the European Opens had been blistered on to the event which made our fleet that much more interesting having some younger (ie under 35 years) windsurfers joining our fleet.
The UK contingent of Masters included Rod Davis, Janet Pain and myself with around 20 in the Youths ably supported by around the same number if not more parents and helpers plus the Youth RYA training support plus boats which helped a great deal. Day 1, strong winds with a lot of sailors getting caught out with their flimsy v. light wind sails (9.5m) not coping with the conditions. The start line was around 1-2 miles off shore in an off shore confused wind so getting back in to change sails wasn't easy! Two 11th places for me and I was well pleased to register my intentions so early in the event. This placed me above what I considered to be my main contenders in the Veterans category (over 55 years ) with mate Rod Davis on 30 points and a Pole Michal Srzednicki on a DNF and a 9th. No sailing 2nd day which was a big disappointment but given the major fleet was the youths and it was an offshore very strong blustery wind the best decision overall! 3rd day saw a moderate wind with gusts which you had to watch out for and make the most of as headers were everywhere! 3 races in the event were sailed with 8/10/10 for me making 39 points with a discard and Rod 45 and Michal 48. Things looking steady but very early days yet!
4th day saw again 3 races with lightish gusty winds but not the supposed planing conditions we were supposed to have before more than 2 races could be sailed (according to the sailing instrs). This caused some consternation in the fleet as yesterday had been equally debatable - our youths were especially damaged by these decisions as their results which had been very good earlier in the event were now taking big hits with light wind results! On balance a good day for me with 13/9/6 being scored making a total of 65, again only one discard which would remain to the end (rules required 11 races for a second). Rod hanging on to 2nd Veteran now with 77 points and Michal 79.
With a possibility of 2 races being sailed on the last day I was beginning to feel reasonably confident but all could still go wrong with only the 1 discard and I needed to stay cool, calm and tactical! In the event we only had the 1 race in very light winds in which I was able to demonstrate that a decent 7.5m can be pumped Ok and still beat a lot of 9.5m competitors!! My 7th place gave me the result I wanted which was 72 points, 9th place overall in the Masters event but 1st Veteran and 3rd Grand Master (over 45years). Given my knee problems over the past 14 months I was very pleased and proud to get these results.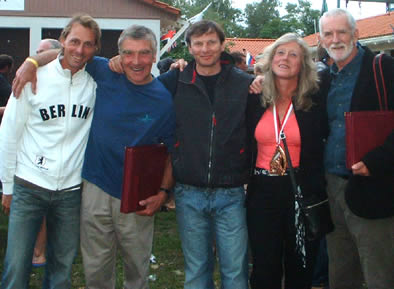 Marco Andreucetti (Italy) 4th, Paul Leone (GB) 5th, Dave Gilchrist 9th (and 1st Vet), Janet Pain 21st (and 3rd lady) Rod Davis 13th (and 2nd Vet)
Happily Rod was able to hold on to his 2nd Veteran place despite a bad last race, his total points being 93 and overall 13th place. Most importantly he managed to hold off the challenge from our Polish friend who was 3rd Vet with 94 points just one point behind Rod. Very gratifying for Rod as last year Michal had beaten him to the title in Bulgaria by just the one point again but then it was the other way around!! Janet sailed very well to end up 21st overall in the Worlds and runner-up Lady to a Belarus competitor. Paco Wirz from Italy held on to his overall Masters World title whilst the only other GBR competitor Paul Leone (master category) came in 5th overall. All in all an excellent event held from a great windsurfing club in Northern Poland. The usual sunny weather for this venue at this time of year did not come through but hey who cares we had some good racing and yours truly isn't complaining!!