UK Youth and Masters Championships
26 July 2005
Weymouth and Portland Sailing Academy

The 2005 RYA/UKWA Youth and Masters National Championships is to be held at the newly opened Weymouth and Portland Sailing Academy on the 24th/25th September.

Racing will take place on the waters that will host the 2012 Olympics in seven years time and who knows, maybe a few of those racing in September will be back in 2012 to claim their Olympic medals.
The event is the main attraction in the Youth and Junior Windsurfing calendar and last year over 160 windsurfers took to the waters to battle it out for the numerous trophies and prizes. Fleets cater for all levels of abilities from those at their first ever National event to those competing at the highest level nationally and internationally. The record for the youngest competitor is seven years old and the oldest in the Masters fleet is a well hidden secret!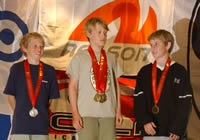 To enter the event you need to fill in the entry form and send to Fiona Bonar in RYA Racing by September 16th.
All enquiries to fiona.bonar@rya.org.uk.