Bridlington Formula Report
10 July 2006
"Bridlington the jewel in the crown of the North East…….. and a place of good fish and Chips and super charged mobility wagons"
The North East Cup has always divided opinion amongst a lot of the touring UKWA competitors, often a venue ridden with rain and offshore winds and a long way to go for many southern orientated competitors, yet despite this it remains a personal favourite of mine and an event with real character. Bridlington gives us a warm welcome every year and we are always made to feel welcome and privileged by not only the generous local council but also the hundreds of people passing by on the promenade and all taking an interest in what all the activity is all about.
So North we headed (except for all action Jackson who true to normal form started heading south, both literally and metaphorically!) the weekend had not forecast much in the way of wind and this may have had a bearing on the numbers of sailors who chose to make the journey especially with regards the formula fleet, though some forecasts did offer some hope for the Sunday.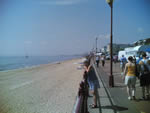 Saturday dawned sunny and bright, but windless! This offered a welcome late start and an opportunity to take time rigging and setting up, Briefing went ahead and not surprisingly it was the race board fleets that were to be singled out for the initial round of punishment, as the wind was struggling to reach the required minimum in which a formula race could be held. And so afloat they went and a fine display they put on too, I decided that given that gathered interest and throngs of spectators both on the promenade and on the beach below that a little commentary might be interesting and keep all the gathered masses informed on progress afloat, however, little commentary kind of descended into a full blow by blow account and after a few minutes of describing the racing, the UKWA and our sport of windsurfing we actually had members of the general public coming to the race office to find out where that could go to learn to windsurf or refresh what skills they had learnt many years ago! This was truly encouraging to see and testament to what we have at the UKWA and on the race scene.
Unfortunately there was to be no racing for the formula sailors as the wind never really got up, and even the race board fleets found to difficult to race with huge wind shifts and the course being re-laid on numerous occasions. So at the end of Saturday it was off to the pool and then into to town for Keith's Big birthday bash! Earlier in the day a forward scouting patrol was assembled to find a suitable location for dinner that evening, and myself "All Action Jackson", "not so much action Campbell" and Leash headed into to town on a mission, after looking at a variety of venues we decided on The Turkish and Italian flavour of "LEO'S RESTAURANT" on the high street, the venue for last years evening dinner party. Leo Kindly offered us a reduced rate for his fabulous five course fixed menu and even offered to throw in some light entertainment in the form of some traditional and cultural Turkish dancing.

Well, we could not turn down such an offer and so with the troops assembled we strode confidently towards the breach and evening's destiny! Well, there are photo's out there somewhere and all 20 of us had great food and wonderful drink and the traditional dancing, well, I'm not so sure! Belly dancing was what was on the menu but to call it a little risky would be playing something of an under statement, young Daniel Simpson certainly "rose" to occasion as did many on lookers as traditional entertainment cavorted and wriggled her way around the room, Xavier showed his continental charms to pretty much everybody in the restaurant from dish washer to customers and Mr Simpson gave a true definition of "belly" dancing.

A good night was had by all and Keith enjoyed a great Birthday bash (he said!).
Some hardcore animals then went onto the local dance hall to partake in further hip shaking and I had it on good account that "All Action Jackson" was about to close a deal with a pretty bar maid when his chances were sunk rather horrifically and unforgivably by "Son of the Beach" sibley who managed, under the influence of copious Bridlington liquid refreshment, to re introduce himself to his evening's dining all over the bar and stage on which Alan Jackson was performing! The deal was never closed and "All Action Jackson" left empty handed with no bar maid to take back to his van and share his inflatable bed with, oh and share with "the bronzed Adonis of Glasgow" Mr Jackson senior as well don't forget. The shame of returning to the van empty handed meant Alan being a hardy Glaswegian chose to sleep on a promenade bench instead-home from home.
Sunday, well, not a lot happened on Sunday either! The wind that had given hope never materialized and despite desperate efforts to get some racing done we had nothing but 3 abandoned starts to show for our efforts. It was to prove a disappointing end to a glorious weekend.
Prize giving was arranged and a local dignitary arrived to award the hard earned to trophies to the lucky winners. With trophies stashed and belly's full of fish and chips (in my case anyway) it was back home and thoughts of what could have been.
Thanks must go to all that helped make the event a success, from race crews, through to Adam and Ceri in their relatively plush caravan. But big thanks must go to the people of Bridlington and East Riding Council who were, as ever, great hosts and provided an excellent venue once again. Thank you.
Be nice to write about windsurfing next time though, can we have some more wind please!
(Update: Apperently Clacton had plenty - report coming soon.)
Chris Lewis
GBR366 - greatfully supported by SOLA WETSUITS, SEVERNE SAILS, AMEX MASTS AND BOOMS, AND MERREL FOOTWEAR.