Keith wins Sports Personality Award
2 February 2006
Windsurfing has kicks other sports into touch as Keith gets 26% of the vote!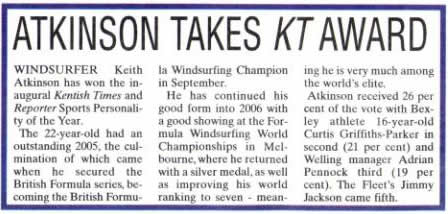 Keith said:
What a great result for our sport, this is not just about me it is about raising the profile of windsurfing, especially with the younger generation. I want to encourage young people into windsurfing not just for their own good but the good of our sport. Windsurfing is a very friendly 'green sport' a million miles away from some of the hooliganism that taints other national sports. I would recommend any parent to get their children into windsurfing. I have travelled all around the world and made so many friends along the way, it's been a fantastic experience so far.

Finally I would like to thank all those who voted for me and for our great sport of windsurfing!