Pro Wave Sailing at the Maze
16 October 2006
Tiree Wave Classic, 14/10/2006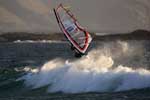 The warm Tiree sun shone its finest for the first round of the men's Pro Wave Sailing at the Maze. With the tail end of an Atlantic low still making its presence felt and South Westerly winds conditions were, according to head competition judge, Duncan Coombs 'Good Tiree'.
The big move of the day belonged to Phil Horrocks making a run off the beach whilst free sailing launching in to an orbital 'Air Flakka' (up wind 360 jump completed in mid air).
Variable wind strength combined with a strong rip in the middle of the beach led to difficulties for sailors in getting planing. The inconsistent conditions meant that the judges decided to score only wave riding. A total of 17 heats were run over the course of the afternoon culminating in a four man final between Andy King, Phil Horrocks, Jamie Hancock and John Hibbard. All of the competitors were in with a shout, but Jamie Hancock pulled out an excellent last wave to snatch the final round.
1st Jamie Hancock
2nd Andy King
3rd Phil Horrocks
4th John Hibbard
Read more on the Tiree Classic website.