TK Rigs Update
7 June 2006
Techno 293 Support Group - 07 June 2006
Dear Sailor,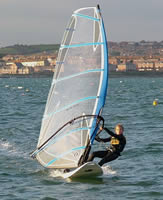 The introduction of the Tushingham TK one design rigs early in 2006 has undoubtedly been a key factor in the revival of junior one design windsurfing racing that has been experienced in the UK this year. The Tushingham TK rigs have given a clear direction to both sailors and parents allowing them to move forwards with their sailing rather than worrying about which rig to purchase and in turn this has led to large one design fleets, the breeding ground of future Champions.
With the Tushingham TK 6.8 and 7.8 rigs, we now have a modern, efficient one design rig that is an excellent match for the Bic Techno 293 board and is a pleasure to sail. This has undoubtedly helped to grow the number of competitors in the UK junior one design class to the highest level seen for 15 years. Moreover, the signs are extremely positive for even greater growth, both nationally and worldwide.
Unfortunately, the down side of a large number of sailors all moving onto a new piece of equipment at the same time is that it creates a situation where an inevitable amount of teething issues end up affecting a significant number of sailors. While this is obviously regrettable, it is also fair to say that it is largely unavoidable. Equipment can only be truly tested when it is subjected to extended use, in harsh, real world conditions by a large group of high level sailors . The alternative would have been to allow a select group of sailors to receive the equipment for a trial period (6 months) and determine any issues present. This would of course left the remaining majority of sailors severely disadvantaged and frustrated with no direction as to which equipment to compete on in the mean time, not an ideal situation.
Tushingham have a massive amount of experience in producing the highest quality windsurfing equipment and are currently working closely with the RYA and representatives from the Techno Support Group to quickly develop robust solutions for the problems that have come to light. The focus is on improving the long term durability of a couple of key components and to provide sailors with improved guidance on how to maximise the life and performance of their equipment.
Excellent progress has already been made made, but it is going to take a little more time to be certain that the most appropriate solutions have been achieved and then to finalise the details for sailors. The information will be circulated in full as soon as possible, hopefully within a week or so at most. However, in the interim, should you have any additional concerns please raise them by email to the TechnoSupport Group at the following address technosupport@ukwindsurfing.com, or on the forum.
Chris Masters
Rob Strange
Marc Carney
Techno Support Group