Weymouth Speed Week 2006
7 October 2006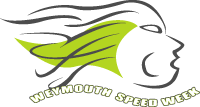 A real David and Goliath battle is developing at the 2006 Weymouth speed week. On the first day a kitesurfer Nigel Rowels broke the harbour record, achieving an amazing 36.8 knots! And has laid claim to the $1000 prize fund put up by Da Kine.
Bjorn Dunkerbeck the previous title holder was not there to defend his title set in 2004 which previously had stood for over 22 years, as he was on his way from an international competition in Sylt, Germany. Bjorn has now arrived in Weymouth with his caddie and £1000 of pounds worth of Thommen and North Kit and is determined to get his title and the $1000 purse.
With strong winds forecast for Thursday and Friday 40 plus knots is being predicted.
Let Battle commence!
Peter Davis, spokesman for the event said:
"What an amazing start! We knew it would be good with a record number of entries including a 40 foot racing catamaran Basilica, and the largest number of 1st timers ever. But no one could have predicted this, with strong winds coming and more competitors arriving including the juniors who knows what we can achieve"