Frustrating Speedweek 2007
11 October 2007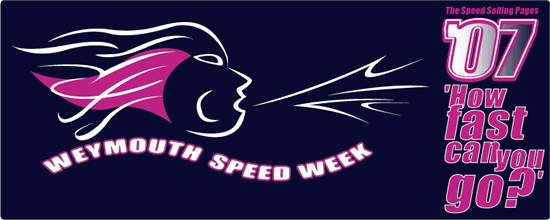 Weymouth this year achieved record number of competitors from all over Europe who arrived on the opening day of WSW to be faced with a moderate wind forecast from an easterly direction, not the normal south-westerly. To add to the frustration, the timing system from the ISA funded by DaKine had a major problem with a crashed hard drive. So the old system had to be hurriedly pressed back into service to enable timing to take place. Which was a godsend considering the Monday was the only day with moderate wind.

Bjorn Dunkerbeck, after driving through the night from the world cup in Sylt showed why he is the best in the world by achieving 27.44 knots in 15 to 16 knots of wind. The UK contingent was out in force including Bob Cunningham and David White but in the borderline competition winds, outsider Nigel Spriggs with 25.83, scooped the men's top spot ahead of the more experienced British sailors and Linda Cleary took the ladies honours.
WSW has timing available every day as long as there is some wind. This enables all the competitors including the wacky boats to test out there theories and designs. But for UKWA and ISA championship part, the rounds will only count if 5 sailors goes over 25 knots onshore or 30 offshore. Unfortunately day two was very light with the formula sailors dominating on their big sails. The day was won by Army Major, Alan Cross with 19.44 knots.

Day 3 and 4 virtually no wind but it did come back Fri, Sat, Sun albeit light and not reaching the required minimum speeds. But it was enough to get the youths out on the water for the weekend. They really enjoyed the conditions which for October was very warm and sunny. It was dominated by Liam Round an experienced young racer from the UKWA circuit and he scooped a Tushingham sail for his efforts.
The week was hailed a great success despite the lack of wind the Monday's counting round meant it qualified as an official round of the World ISA circuit and that Nigel Spriggs and Linda Cleary are crowned the UKWA 2007 British speed champions.

Thanks must go to the sponsors of the event without whose support events like this would not be possible. Dakine were title sponsors of WSW and donated great prizes and funded the timing system. Ultra Sport the new importers of F2 and Maui Sails donated a F2 Missile, Maui sail and boom for the amateur prizes. Club Vass a holiday for the rookie prize, Spartan Wetsuits for the UKWA champions, Windtek the local shop for the Saturday party and prizes. Other supporters include Tushingham sails, Maui Jim Sunglass, Boardwise, Windsurf Magazine, AYRS, Red Bull and Fiberspar.
Full results
Ladies

Linda Cleary (Prize Dakine Overnight bag)
Claire Newman (Maui Jim Sunglass)
Elizabeth Bowen (Maui Jim Sunglass)
Masters
Robin Penna (Prize Fiberspar mast)
Theo Theinert (Da Kine Harness)
Simon White (Boardwise Uphall, boom Bumper and straps)
Amateur Windsurfer
Nigel Spriggs (Prize F2 Missile From Ultrasport)
Ian Hill (Maui Sails Sail From Ultrasport)
Theo Theinert (Maui Sails Boom From Ultrasport)
Pro Windsurfer
Bjorn Dunkerbeck (Prize Thommen Trophy (Fastest of the Week) and Maui Jim sunglasses. )
John Benamati (Maui Jim Sunglass)
Simon Hinkley (Maui Jim Sunglass)
Kites
Stephen Davison (Prize Windtek Ruck Sack)
Stacey Vass (Wintek Wallet)
Zoran Jovanovic (Reef Sandals)
Boats
Icarus - James Grogono (Prize Dakine overnight Bag)
Kite Cat - Stefan Cook
4.85m Catamaran - Torix Bennett
Novice
Richard Peel (Prize Club Vass holiday for two)
Tim Fricke (Rushwind Boom from Boardwise)
Stuart Trunkfield (Boardwise boardbag and Pads)
Richard Peel's prize is especially deserved, he came to Weymouth Speed Week with the intention of raising money for the Air Ambulance. As a result he has raised over £2000. If you would like to help him achieve more then please follow this link.
Junior
Liam Round Tushingham sail & Dakine water bottle
Sam Latham :Tee shirt & Dakine water bottle
Richard Simpson: Tee Shirt & Dakine water bottle
Fastest Junior Girl
Amy Barrett (Starboard Tee Shirt)
All the juniors were also given Dakine tee shirts, thanks to Dakine.
Crash of the week
Decided by fellow competitors between:
Trevor Funnell

For racing against a kite (whilst on a windsurfer) without any consideration for the depth of the water!

Ed Murrell

Who with just his trusty windsurfer single handedly took on a fleet of three Kite Cats coming in the opposite direction. He became airborne following impact with the third one!
An Oxbow jacket from Windtek was awarded to Ed.
UKWA Champions
Men

Nigel Spriggs

Ladies

Linda Cleary
They both won a Spartan wetsuit to the value of £200 and their Trophies will be presented at the UKWA Ball in Bournmouth.
Amateur Yacht Research Society Awards
Dennis Ward Trophy for innovation - Peter Lynn Kite Cat entered by Stefan Cook.
The 'Portland Pot' awarded to the person who in the opinion of the organising committee and AYRS representatives has displayed the 'Spirit of Weymouth Speed Week' by their enthusiasm, there (slightly wacky) design ideas and their willingness to get involved and help make Weymouth Speed Week the enjoyable and world class event that it is.
Presented to Graeme Fuller.
Next years event is planned for 4th of October 2008 as usual get your entries in quick to ensure a place.