Frustrating start to Speedweek 2007
4 October 2007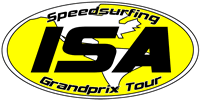 A record number of competitors from all over Europe arrived on the opening day of WSW to be faced with a moderate wind forecast from an easterly direction, not the normal south-westerly. To add to the frustration, the timing system from the ISA had a major problem with a crashed hard drive. So the old system had to be hurriedly pressed back into service to enable timing to take place.
Bjorn Dunkerbeck, after driving through the night from the world cup in Sylt showed why he is the best in the world by achieving 27.44 knots in 15 to 16 knots of wind. The UK contingent was out in force but in the light winds outsider Nigel Spriggs with 25.83, scooped the top spot ahead of the more experienced British sailors.
Day two was very light with the formula sailors dominating on there big sails. The day was won by Army Major, Alan Cross with 19.44 knots.
Details on speedsailing.com.
The forecast is not great for the next few days, but looks better towards the weekend.