Speed Gun Challenge
30 January 2007

To help promote speedsailing the UKWA will also be having a speedgun at a number of UKWA racing events to measure your speed.
This we hope will encourage people to take up speedsailing as well as providing a lot at fun at the racing events. This is being supported by F2 who will be providing prizes and trophies for the events. As part of the international F2 speed series.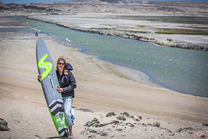 Overall there has never been a better time to take up speedsailing.
It's easy its fun and you don't even have to be able to tack or gybe!
What's stopping you?
The following events will be part of the Speed Gun Challenge:
Slalom 1: Hayling Island, March 24/25
Inland 2: Whitwell, May 19/20
Slalom 3: Hove Ocean Festival, June 23/24
Weymouth Speed week, October 6/7 (Just the weekend)
Slalom 4: West Wittering, October 27/28
For more information have a a look at the recently revised speed information, and the events calendar.