Windsurfer gets a Yachting Award
25 February 2007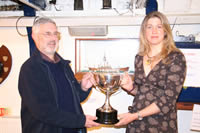 Zara Davis our No 1 Ladies speedsailor has been awarded the Sailor of the year trophy by the Bristol Channel Yachting Association, who represent over 55 yacht clubs over the South West of England.
They felt that Zara's achievements in 2006 of 3rd Place in the ISA rankings, her world title for the nautical mile and that fact she practices on the Bristol Channel made her the favourite for the prestigious award.
Zara is Pictured receiving her Trophy from Roger Donkin Chairman of the BCYA.
Zara said:
"This Award was a complete surprise to me, but I am very honoured to receive it and be recognised for my efforts last year. I would like to dedicate it to my parents John & Mary who are no longer with us but would be very proud."
More about Zara on her web site www.zaradavis.co.uk