Aberdovey JP/Pryde Slalom
22 June 2008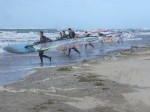 This weekend's event was one of extremes, with sails sizes of 9m on the Saturday (and not a lot of slalom), and 4m on sunday, with more races than most people could handle!
The best entertainment of saturday was several of the youth sailors trying out vraious dives from the peir, and later there was a great barbique at the sailing club.
Sunday dawned very windy, with readings between 26 and 45 knots over the day. Distrection was the better part of valuor for some (ahem, myself included), but many of the top-flight and challenge fleet completed several rounds of slalom.
Jamie Hawkins showed dominant form in the top-flight, with only Richard Jones able to pip-him on the line in one race.
Full results, report and pro-pics from Simon Crownther coming soon.