F2 Bounces Back and Signs Top UK Sailor
24 June 2008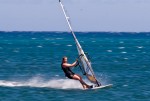 F2 restructure and spring back into action with the signing of Zara Davis the UKs Queen of speed. Zara has been recovering from a badly broken foot that she injured in competition last year and the news of the interest in her from F2 has given her even more incentive to get back to full fitness. She is very excited about the upcoming World Championships at Fuerteventura in July and the prospect of the new F2 Missile XS which she is confident will give her the ladies production world record to add to her world mile record.
Tamzin from Ultra Sport Europe the importers of F2 in the UK said: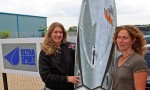 "With F2 international now firmly back on track. We felt it the right time to talk to Zara who is without doubt a fantastic speedsailor and a great ambassador for the brand. She will undoubtedly go quicker with the new 2008 speed and slalom boards shaped By Patrick Diethelm who recently set a new men's production record on the Missile of 46.57 knots. Who knows what Zara can do?"
Zara is also sponsored by Gaastra, Dakine, Spartan, Maui Jim and Walnut Grove Clinic.