Minster report
10 June 2008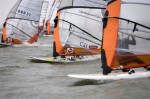 The Wet n' dry Slalom event hosted by Minster Windsurf Academy took place at the weekend with over 30 entrants making the journey down the Isle of Sheppy, some of these journeys proving longer than others with Robbie Swift and Dan Ellis flying all the way in from Maui to compete in The UKWA's second round of the JP Neil Pryde Slalom series.
Saturday saw plenty of wind, though fluctuating wind strengths did make for some very tricky, yet exciting racing, and after 4 rounds in the top flight fleet every one in the top four had claimed a first place, the positions couldn't be closer! The Challenge fleet were also enjoying some testing and close racing also. A full report of the final results will be posted very soon along with a full event report also.
Following a great party on Saturday night organised by Ricky and Michaela, Sunday dawned with amazing sunshine and very hot temperatures. With no wind really turning up, the focus for the event was on shore where Xavier Ferlet, Robbie Swift and Jamie Hawkins all gave presentations and technique clinics on speed, Gybing, early planing and stance. the gathered masses certainly learnt alot and the exercise proved very worth while and enjoyable for all that attended- Robbie was even giving back loop tips at the end of the afternoon!
The Minster event was particularly susuccessful when taking into account that nearly 50% of entrants were local sailors and customers of Wet n' Dry, all new to racing and all venturing out to the start line for the first time. They proved that slalom racing was for everyone no matter what your ability or what kit you have on the roof. Many sailors made full use of all the JP and Pryde demo kit using to great effect out on the course with Graham Dodd's of Wet n' Dry being spotted on his way back to southend on a 7.8 RS Slalom (he needs to learn to turn around!)
It's not long till the third round of the JP/Neil Pryde series which is being hosted by Boardwise in the sleepy and picturesque welsh holiday of Aberdovey. The event is on the 21st and 22nd of June and with the location being tidal and in the mountains there is always a good chance of getting some wind. On shore, the location offers alot for families and long suffering spouses! So if you want to get away somewhere very nice and enjoy a great event then this is the date in your calander you need!