Olympic update
16 August 2008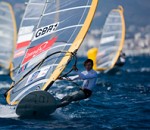 At the halfway stage (hopefully, given the lack of wind), Nick Dempsey currently lies in 3rd place, and Bryony in 5th. The RYA have been on top of all the action with loads of articles going out on all the sailing action, here are the windsurfing highlights from the RYA:
---
The windsurfers in the RS:X classes face the toughest physical challenge of all, where the light winds, heat and humidity of Qingdao will take their toll on even the fittest sailors.
The RS:X makes its Olympic debut in Qingdao, replacing the older Mistral class as the windsurfing equipment of choice following the Athens Games in 2004. The equipment is standard and supplied by the host organisers so there are no technical gains to be made - just fitness, power and racing savvy to get you and your 9.5 sq m sail (or 8.5 sq m for the women) around the course.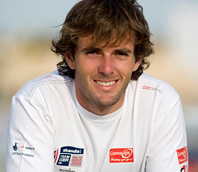 Athens bronze medallist Nick Dempsey, competing at his third Olympic Games for Team GB, explains the physical nature of the class:
"It's pretty tough, we do 11 races over six days, two races a day at generally about 35-40 minutes a race. In heart rate terms, you'll sit there above 90-92 per cent of your maximum heart rate so you're on that threshold of your maximum endurance for those 40 minutes and we do two races a day.

"I don't know what other sports would compare to that to but it's probably like doing two 10,000m races in a day. You do two races flat out, then the same again the next day and the same again the next day for five days and then one race at the end which is worth double points and non-discardable. It is very, very hard."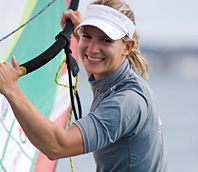 For Team GB's women's windsurfing representative Bryony Shaw, China will be her first Games and in spite of the tough conditions, she's lapping up the experience.
"I'm just hoping that I'm going to be swept along and enjoy it. It's my first Olympics and the atmosphere was pretty hyped up even at last year's Test Event so hopefully I'll be used to that environment and take it in my stride.

"I'm really passionate about windsurfing and the competitive nature of it. I've got a really massive driving force that I want to succeed for the nation, myself and my family. It's the route I've chosen through life and I think it's important to succeed at what you end up doing. I've really put a bit of personal pressure on myself to make sure I do succeed and I think I'd be gutted if I didn't get a medal."
Dempsey already has Olympic hardware in his house - both his bronze from Athens, and the Yngling gold belonging to fiancé Sarah Ayton. Bursting with pride for Ayton's focus and determination, he does admit to the slightest pang of jealousy at her success.
"I know she's going to do well, she's just got the whole package. That whole Yngling team is just incredible. I don't worry about [Sarah's] results, she's just too good. I used to worry when she was rubbish!

"Back in 1998 when I used to do quite a lot better than she did, but now she just outshines me at every event which I'm not actually that happy about!
Day 3
With the windsurfers joining the Olympic party today, Bryony Shaw put in a solid start to her regatta.  She ends the day in third with results of 4,3 from her two races, with the Chinese sailor Jian Yin having the perfect opening scorecard of 1,1.
"It's just good to get off the blocks really," said Shaw afterwards.  "I'm happy that I had conservative start but that I was able to come back through the fleet and take a few places.  Hopefully I can improve on that tomorrow."
In the men's RS:X event, Athens bronze medallist Nick Dempsey is in 10th place with an opening day scoreline of 13,8.
Day 6 preview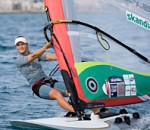 Day six of the Olympic sailing regatta in Qingdao (Thursday 14 August) will see windsurfers Nick Dempsey and Bryony Shaw resume their quest for gold.
Dempsey, who celebrated his 28th birthday on Wednesday (13 August), currently lies in fifth place overall and will be looking to build on his strong performance from Tuesday, where he posted 3,2 , to boost him into the podium positions heading into the second half of the regatta.
Bryony Shaw, who won the Olympic Test Event in Qingdao last year, is also poised in fifth place in the women's RS:X fleet (women's results), and will be eager to repeat her solid opening day performance to push her closer to the top spots. China's Athens silver medallist Jian Yin heads resumes racing in the women's windsurfing fleet with a nine-point advantage at the top of the leaderboard.
In the end, Nick Dempsey picked up his first bullet of the regatta in the men's RS:X windsurfing event.  The Athens bronze medallist has now moved up to the bronze medal position (men's results), one point adrift from silver
You can follow all the sailing action at rya.org.uk/beijing2008.