Dakine Weymouth Speed Week
22 October 2008

Weymouth speed week was superb this year, with the harbour record being broken on the 1st day by Anders Bringdal at 38.52 knots. Three great counting rounds in the week which gave us our speed champions for 2008 Pete Young with 37.29 knots and Zara Davis with 30.89 knots. Prizes and Trophy were donated by Spartan wetsuits.
It was also a counting round of the ISWC Speed world cup. Results for the UKWA and the ISWC are available.
Speedsailing.com has more results and pictures (including those funny kite thingamies).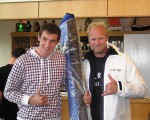 Liam Round took the honours for the second year running, being the fastest junior windsurfer at the start of Weymouth Speedweek. 16 year old Exocet rider Liam notched up a speed of 32.27 on Saturday breaking the previous junior record by 3.88 knots. Unfortunately for Liam he lost  out on the overall title to Martin Hayes a kiteborder who posted a speed of 32.43knots. Liam wasn't too disappointed though as Anders Bringdal presented him with a  7m X15 courtesy of Tushingham sails who sponsor the Junior Windsurf prize.
ITV Coverage
ITV covered the story on the local news: