Formula World Championships in Spain
20 September 2009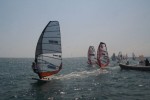 The GBR riders were well represented at the Formula Worlds in Santa Pola (Spain) this year with 7 people (Ross Williams, yours truly - Xavier Ferlet, Richard Jones, James Briggs, David Coles, Liam Round & Jason Clarke).
Arguably, Santa Pola has some of the best Formula conditions in the world.  Even when there's 30 knots, the shore break is just non existent which is pretty amazing!  The conditions ranged from 10 to 30 knots with about 14 knots average so that was perfect for Formula.
These Formula Worlds were the best organised I've ever seen.  The space formula kit takes is always an issue.  We had huge racks to store the kit, hoses to rinse the gear, massive tents to provide shade and shelter, lines to hang rigged sails to the ceiling and believe it or not, artificial grass to rig up!  Any rider knows that these conditions are perfect to keep the kit in tip top conditions.
If you add to this free food for competitors, cheap local accomodation and legendary Spanish hospitality, no wonder why about 100 competitors made their way to Santa Pola.
The results before the last day are as follow. Ross recovered from a bad start of the event to stand 6th before the last day.  Yours truly didn't perform quite as well as last year but still came 34th.  Richard beat me in one race and stands in 51st at the moment.  James Briggs, David Coles, Liam Round and Jason Clarke are closely grouped in 67th, 70th, 71st and 73rd respectively.
Next year the Formula World Championships are at Mendoza in Argentina in March.  I hope to see many GBR riders making the trip.  Hopefully I'll do better!
See you there!
Xavier Ferlet - GBR 451 (Starboard - Neil Pryde).