JP/Pryde British Slalom Series Round One, Rhosneigr
6 June 2009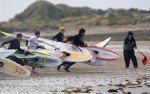 There are not many events on the UKWA calender where two disciplines can combine with ease to give great conditions and ultimatly great sailing and with memories of world cup grand slam events in mind it was the famous wave spot of Rhosneigr in North Wales that was to play host to the opening round of the British Slalom Series sponsored by JP and Neil Pryde, long renowned for its peeling waves, rolling swells, dependable wind and long established retailer watersports retailer Funsport, Rhosneigr sits on the south west shore of Angelsey occupying a location ideal for windsurfing. Funsport were to play hosts to both the slalom series and the second round of the British wave cup series, joining in this event was also the Irish Slalom Series who following an initial event at Malahide near Dublin were travelling from foreign shores to complete the "JP/Pryde Irish Sea Challenge".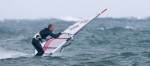 The start of the week saw some froogle and erratic wind forecasts, but as the week went on the gods and saints smiled and by Friday some serious wind speeds were being predicted for saturday as an intense low pressure system began to make its way up the St Georges Channel to bless the shores of St David's principality with some of the best windsurfing conditions and competitions the Uk shores have seen for a very long time.
Saturday dawned with a strong southerly wind sweeping off Cardigan Bay and cross shore at Rhosneigr Beach, classic port tack jumping for the wave heads and ideal conditions in which to run both disciplines simultaneously, it had been a sleepless night for all organisers involved as with up to 100 entrants expected the pressure to deliver two great events for all competitors was intense. Rhosneigr delivered in spectacular fashion with flat water slalom being run over to the left sheltered from the rolling swells by an outcrop of rocks that could not of been better place to allow some fast and exciting racing, to the right hand side of the beach the wave heats began in near perfect cross shore conditions an amazing spectacle for the gathering crowds who could stand and watch some of Britain and Ireland's finest talents competing in two separate disciplines at the same time and from the same beach.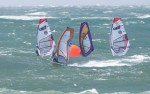 Early heats saw some small sails and small boards being dragged out and it was mainly wave gear that was being rigged with winds ever increasing and peaking at 35knots, the conditions allowed wave sailors not sailing heats to step across the beach and join in with the racing. The wave guys and girls put on a great show and were clearly enjoying their racing experience with some competitive and entertaining heats, it was however the hardened racers that were leading the way in the respective fleets with 08 British Champion and former PWA star Jamie Hawkins looking to carry on the new season where he left off. It was clear from the start though that this year was going to be different with Matt Pearch and Ant Baker both offering a serious challenge with similar PWA backgrounds and experience. The challenge fleet was also proving to be competitive with sailors coping well in the testing conditions, and though the top guys were racing hard to win it was clear that the rest of the competitors were just racing for fun and simply enjoying the conditions as the wind blew and the sun shone.
As the day went on and the tide rose the wind was continuing strengthen and conditions were going from being epic to very tough indeed, the early shelter afforded by the rocks was fast becoming overwhelmed and swell was now rolling across the race course, the conditions seemed to bring out some of the best sailing for everyone, but like the bleep test at school, as the sailing was getting harder, the sailors were getting softer! Out at sea the marks were beginning to break free from their anchor lines and though the rescue team was doing a sterling job at keeping the event going a decision was made to call an end to racing for the day with conditions being deemed to dangerous for both sailors and rescue crew. an Audible sigh of relief was heard from sailors lined up for the next heat and it was all hands to the job as the rescue rib was carried out of the water in celebratory procession of thanks and gratitude to the driver and crew who had enabled the epic racing to occur- a sterling job and alot of thanks was given to the guys for what they had achieved and blessed us with in possibly the most exciting conditions they had ever been afloat in!
Saturday night's entertainment was to prove different to say the least! a coach trip to Llandudno ski slope for a Piste party! live music and free snowboard or skiing was on offer to all competitors, and though gratefully received weary legs and battered bodies saw early nights for most competitors with conversations reduced to comparing bruises and exaggerated wipe outs. The Ski slope was drunk dry and not an scrap of food was left, Boardseeker provided some great photo action from the day as well as some great live music to at least get weary toes tapping if battered bodies were immobilised!
Sunday awoke to grey skies, little wind and the famous welsh Drizzle! despite some sterling efforts from the UKWA's race team and after a number of abandoned starts it was clear that racing was going to be impossible and not long after the wave event was called the slalom race crew soon followed suit and called an official end to the weekends racing activities. It was hard to imagine that only the day before Rhosneigr was battering all competitors with glorious sun and near gale force winds! "He giveth and he taketh away" as some scholars might say, and indeed in this instance he certainly did!
With no more racing it was Saturdays results that were to stand and naturally this brought a mixture of disappointment and celebration with sailors looking to make up for bad results on Saturday having to give way to the sailors who had pulled out all the stops to sit high on the respective leader boards. In the pro fleet Jamie Hawkins (Pryde/Exocet) could not make up any distance on Saturdays pace setters and was beaten into third place by a rejuvinated 2006 British Slalom Champion Alan "all action" Jackson (Tushingham/Starboard), however it was newcomer and PWA sailor Matt Pearch (North/Fanatic) that got everything dialled in the testing Saturday conditions to take the event win. In the challenge fleet newcomer to racing Simon Bostock took the event win ahead of Marie Buchan (Tushingham/Starboard) in second and Richard Hobson rounding out the podium with a respectable Third. Special mentions must go to the irish competitors with Oisin van Gelderan just pipping race hardened Pearce Geaney into fourth place overall. ith youngsters and enthusiastic sailors alike it is clear that Irish Slalom Sailing is alive and well and looking forward to a great future. Anyone interested in more information on the Irish Slalom series then check out www.irishslalom.ie and look out for next years "JP/Pryde Irish Sea Challenge" which comes highly recommended and well worth checking out if your looking for the ultimate windsurfing road trip!
As we headed away from Rhosneigr and back to the far corners of the UK from where we had all come it was clear that all competitors were taking some pretty special memories and experiences with them! it had been an epic weekend for all involved whether competing in waves or slalom. the concept of UK grand slam events being placed on the map for the future for sure, with Rhosneigr leading the way as an awesome example venue. Aberdovey in mid wales was going to be the next stop on the tour, 13th-14th June, and with 45 knot winds at last years events, Wales was certainly delivering world class conditions to match its world class locations and with Aberdovey's unique geography we can be pretty much guaranteed yet more wind again!
Thanks must go to all those involved with organising the event and tour, but especially Funsport for their efforts as event hosts, the UKWA race team, the Irish Slalom Tour, Nigel at the ski slope and of course series sponsors JP and Neil Pryde
See you at the next event.
Chris Lewis
GBR366
JP/Neil Pryde
Photos by Simon Crowther.