New British Wave Champion
11 November 2009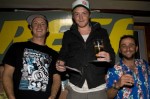 UKWA Crowns Its New British Wave Sailing Champion
Jamie Hancock
 After three rounds of full on wave sailing the UKWA has crowned Jamie Hancock
'2009 British wave sailing champion'
Jamie, who lives in Portsmouth, can be seen riding waves all along the hot spots on the south coast. Competing for many years on the UKWA wave tour Jamie previously won the prestigious indoor title in 2005 and was also the Tiree Wave Classic Champion in 2006.
This year's first tour event saw competitors cross to Brandon Bay, Ireland, and what an event! Brandon Bay delivered like never before provideing the most extreme conditions ever seen at a UK contest. This was an extremely successful event for Jamie finishing the event in first place and getting his season off to a great start. (See Photograph)
Event two was the Welsh leg held at Rhosneigr. With a strong southerly wind sweeping off Cardigan Bay and cross-shore at Rhosneigr Beach, there was classic port tack jumping for the wave sailors where Jamie finished in a creditable second place, therefore retaining his overall lead.
Event Three saw competitors making the long trip to the beautiful Isle of Tiree. Here Jamie in his own words 'had a shocker' finishing in only eleventh place, but with only two events from the three to count for the 2009 British Title Jamie was declared a worthy Champion.
An additional event not sanctioned by the UKWA was held at Gwithian (Cornwall) in late October. Results therefore did not count towards the British title; this did not however put Jamie off, taking third place on the podium.
2010 will see Jamie continue to support the British tour whilst also progressing to the World PWA tour where he hopes to build on his UK 2009 success.