North Sea Cup 2009
14 May 2009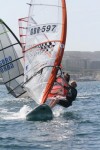 Congratulations to Stu Hards1st overall, and 1st 7.8 Techno, and Kieran Martin 2nd overall and 1st Techno 6.8 at the North Sea Cup event 1 in Ostend over the weekend.  Our sailors were made very welcome, the weather was good, and the racing was carried out in a variety of winds. A strong fleet of over 40 Techno`s were in attendance, with National teams representing Belgium, Holland and France awaiting our boys.
Further details of these fun events can be found at www.northseacup.eu/ for those of you who fancy an international flavour to your racing!!
Entry for the weekend is usually around 25 Euro`s. Racing On Saturday commences from 14:00 hrs (to fall in line with the French school curriculum) allowing plenty of time to get across the channel! Food and entertainment is provided in the evening with lots of sponsor goodies in the raffle. In Ostend an arrangement for free accomodation was made near the race site. Prizegiving happens at around 17:00hrs on the Sunday. Everyone is  made very welcome!
More at northseacup.eu.