Rutland-Report New Photos
7 October 2009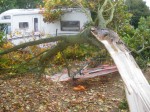 Windy Saturday brings down tree at Whitwell. Fortunatley Mikes van and sails survive
Main Course
Saturday's racing saw far to much wind for course racing with gusts over 45knots, with a difficult Rutland chop. Race Officer Mike spent most of the day out on the water looking for suitable conditions and late Saturday afternoon, after moving the course yet again held 3 races for the braver Formula and 2 races for Raceboard. Unfortunatly all other fleets failed to race.
Sunday saw much better conditions and all fleets saw at least some racing.
Junior Course
Late Saturday afternoon Race Officer Tessa held one round of racing for the Junior fleet in the shelter of the Rutland creek. Conditions in the creek are always difficult and this was no exception, however this did at least give the Juniors a challenge and some time on the water.
Sunday saw much better conditions for the Juniors and 8 rounds of racing on a larger than normal course tested the skill and fitness of our Junior sailors. Race Officer Tessa was pleased to see some first timers at the event.
Results
3.5
1st  Jessica Dudfield     2nd Alysia Gibson     3rd Rebecca Kent
4.5
1st Sarah Labourne    2nd Joe Patrick     3rd Zed Spencer-Milnes
5.5
1st Cameron Coghil     2rd Dean Hargreaves     3rd Charlotte Seal
6.8
1st Emma Labourne     2nd Seb Cooper     3rd Max Bushell
7.8
1st Kieran Martin     2nd Adam Purcell     3rd Kieran Burley
9.5
1st Robert Kent     2nd Tom Naylor     3rd Mark Kay     Unl 1st Andy Mexhome
RS:X
1st Charly Money     2nd Josh Leadbetter     3rd Matt Brown
Formula
1st Rich Jones    2nd Liam Round     3rd Jason Clarke
Free Race
1st Simon Jam      2nd Gavin Nicholson     3rd Graham Baster