Tiree Wave Classic
11 March 2009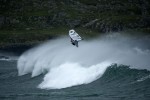 Tiree this year is Saturday 10th Oct to Friday 16th Oct (closing party on the Friday night). We shall bring you confirmation of the one-day event; The Coll Challenge as soon as we have it but the wave event is definitely confirmed.
Remember this year the ferries are cheaper for everyone. A return for a car or motorhome up to 5m is £82 + passengers. Motorhomes up to 8m cost £124 return plus passengers.
There are more details and accomodation.
Picture courtesy of John Carter.