UKWA Inland Series 1 - Pitsford
6 May 2009
Northampton SC, Pitsford 25 & 26 April 2009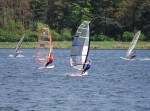 Fantastic spring sunshine greeted us on the Saturday morning at Northampton Sailing Club at Pitsford Reservoir, a frequent venue for Midland Region sailors but a very pleasant surprise for the newcomers. There was more than enough wind to get all fleets afloat and racing although it was rather gusty, sometimes well into Force 5 and there were many cruel and unforgiving windshifts. Sunday offered lighter winds, although they were still very shifty and caused Race Officer Mike Dempsey some serious headaches trying to lay a sensible course. Initially he was forced to lay a starboard hand course, which generated the inevitable arguments around the windward mark.
There were a number of old faces making a welcome return to the Raceboard fleet, Tushingham's Dave Hackford, who kindly supplied half a dozen  Starboard Phantoms for sailors to test, had a senior moment, forgetting his tally, going back to retrieve it and then missing the finish gate at the end of Race One! However he soon got into his stride, eventually finishing second overall. Mike Blackgrove blew the cobwebs off his raceboard and had an enjoyable weekend, as did Mark Kay, and a man from the distant past in the shape of Dave Richards, who sailed brilliantly, taking 3rd place overall and winning the Unlimited Fleet from Andy Mexome. All of these guys claimed they had so much fun that they would be back again on a raceboard soon.
At the head of the Raceboard Fleet was Rob Kent, astride his new 2009 Phantom powered by Tushingham's new RX Race Sail, which he had helped to develop. Rob did not have it all his own way for once, Tom Naylor scored a 1st in Race 3, Dave Hackford topped the fleet in Race 5, Bob Ingram in Race 7 and Mark Kay in Race 8. Some of this was due to the capricious windshifts however, in Race 7 the front of the fleet was way ahead when a huge veer dumped them back half way down the fleet at the windward mark, even so, Rob managed to fight his way back up to 5th before the finish line behind Race winner Bob Ingram and Annette Kent! At the other end of the age spectrum it was great to see young Christopher Guest from Oxford sailing a borrowed Phantom and finishing 16th out of a fleet of 26.
Keith Atkinson also came out of retirement to make a clean sweep of the Formula Fleet.  U20 George Riach took most of the second places to take second spot overall ahead of Jason Clarke. Chris Bond won the Formula National Fleet, finishing 8th overall, with Lee Hayes, 13th overall heading the Freerides. Saturday, with its gusty winds, proved a punishing day for the Formula guys and they were forced to relax on the Sunday as the wind was sadly not consistent enough for them to get a race in.
The 13-strong RS:X fleet put in nine strenuous races over the weekend, George Bowles retired from the first two races but steamrollered most of the rest, finishing top of the fleet on 12 points, well ahead of his nearest rival, Jamie Ingram on 23. Several sailors picked up a first place in addition to George and Jamie, they were Connor Bainbridge in Race 1, Charlie Money in Race 2, Tom Eskdale in Race 4and Matthew Brown in Race 5, just going to prove how being in the right place at the right time can make such a huge difference on a gusty, shifty day!
The very strong Techno fleet, numbering 36 sailors, enjoyed a very competitive weekend, several General Recalls giving testimony to the adrenaline flowing at the front of the fleet. Joe Bennett (7.8) ended the day in first place overall with 13 points, only 2 ahead of Kieran Martin (6.8) who was still all fired up after his European Championship win at Lacanau early in April. Tom Squires (7.8) took third place overall on 18 points, recording no less than three first places, just ahead of yet another 6.8 in the hands of Adam Purcell. Jade Rogers flew the flag for the girls in 5th place overall and 3rd 7.8 Techno. Again a very punishing weekend for these youngsters who did a great job in the tricky conditions.
The Under 15s packed in a total of thirteen races, Isaac Bradley-Baker topped the 3.5 fleet, Sarah Labourne the 4.5s and Robert Griffiths the 5.5s. A tribute to the determination and ability of these young sailors.
The Saturday evening Bingo made a change from the usual fare and produced some interesting prizes thanks to Tushingham, Pryde and Boardwise. More thanks to Dee Caldwell at O'Neill, Nik Baker at North/Mistral and Dave Hackford at Starboard/Tushingham for supporting the event with product prizes awarded to the raceboard fleet.
Thanks also go to Bob Ingram and the Midlands team for their splendid organisation, to the Race Officers and safety crews and all those members of Northampton Sailing Club who gave up their time to help with the event.
There are also loads of fantastic photos of the Pitsford event from Richard Granger.