Wave 1 - Brandon Bay
25 April 2009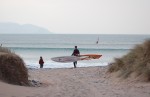 Two weeks to go!
Ferry
It looks like the Swansea-Cork ferry won't be running in time so Stena Line is the only option either from Fishguard or Holyhead or P&O from Liverpool or Troon/Cairnryan. Try Direct Ferries for cheap deals.
www.stenaline.co.uk
www.poirishsea.com
www.directferries.co.uk
Accommodation
Jeremy at the Jamie Knox Shop has a list of houses to rent. Please note The Lodge is NOT open for B&B. info@jamieknox.com 00 353 66 7139411
Social
As always, this event is just as fun in the evenings as it is on the water.
WEDNESDAY 6th: A quiet pint in Spillanes, nothing too hectic. Meet at 9pm.
THURSDAY 7th: BBQ Rib Meal at Seven Hogs with footage shown from the first two days action courtesy of Boardseeker Magazine.
FRIDAY 8th: Irish Music Night at Spillanes
SATURDAY 9th: Disco Theme Night with prize for loudest/worst Hawaiian Shirt at Spillanes and showing of Event Movie courtesy of Boardseeker Magazine.
Note: Sunday is a 'spare day'. If we have a result in all fleets by Saturday evening then official competition is over and Prize Giving will take place before the Disco Night at Spillanes. We will then have a Super Session on the Sunday if conditions allow.
Registration
9pm on Tuesday 5th May at Spillanes OR 0830 at Jamie Knox Shop on Wed 6th May. The more people who enter on the Tuesday night the better so we can get on with the competition on the Wednesday.
See you all soon!