Waves R1: Brandon Bay
12 May 2009
Hosted by Jamie Knox Watersports, Ireland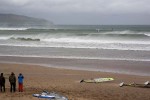 What an event! Brandon Bay delivered like never before provided the most extreme conditions ever seen at a UK contest. It also gave us the best amateur wave competition for years once the mast high rollers calmed down the head high jumpers!
DAY 1
Gowlane was working from about 8.30am in the morning; 4-5m weather depending on the gusts coming down from the hills with logo high waves.
Competition got under way around 1030 with the Pro single elimination and the Amateurs, Masters, and Ladies starting after the first round of the Pros.
Conditions started to get trickier and by lunchtime it was hell out there! Massive gusts requiring a 3.7m sail then pockets of no wind just before a nice, logo high wave were wiping out a lot of the fleet and indeed some of the Pros. The cross offshore wind held up the waves nicely but as the day progressed and the tide came in they had more and more 'punch'!
Pro Single Elimination
First shock was Phil Horrocks losing to Jamie Hancock and Rob Jones in the second round. Rob is a sail repairer (brother of Rik of Riks Windsurfing) and also the local school bus driver. He had to leave soon after helping Phil out the contest to go and deliver some children to school then missing his next heat. But there was always the double elimination for Rob and Phil to make a comeback.
Back to the single and Hancock remained on fire all day storming into the final, although not before a close shave against Timo Mullen. Timo protested the result (putting Hancock through) as the Judges didn't see his goiter back onto the wave. They re-ran the heat and Jamie won to get into the final against Andy King, John Skye and Ben Proffitt who had beaten Finn Mullen and Oisin Van Gelderen in the semis.
The final was all Hancock's; he got a belter of a first wave and was ahead from then on. The other three were NOT making it look easy and timing was all over the place which just proves how tough it was out there. Skye got the second, King third and Ben fourth.
Amateurs Single Elimination
Scott McDowell was having a bad day! He was seeded No.1 in the Amateur fleet but the conditions were not to his liking and he didn't shine in the gusty, cross off waves. Steve King (Andy's twin brother) and Dave Horrocks (Phil's younger brother) were the real contenders for the crown today choosing good waves with Steve pulling off goita after goita. Niall Mellon wasn't too far behind riding Gowlane like a real local which of course he is! But in the 4 man final Dave got two decent rides against Steve's one and only top scoring ripper (its two waves to count Steve)!
Masters
There were mutterings amongst the Masters fleet that no 'oldie' should be allowed to go off for three weeks winter training in Cape Town. But that's exactly what reigning Masters champ Nigel Treacy did and it paid off. He got the best wave in the final, followed by the blonde dreadlocked Sav in second and a disappointed Big Davey in third.
Ladies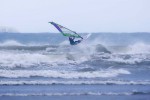 Pro Double EliminationSo the double got underway at 4pm to the dismay of a few exhausted sailors who had arrived very late the night before and were knackered from dealing with the testing conditions. Now they had to contend with driving rain but at least the waves cleaned up and the wind became more consistent as high tide approached.There was an upset in the Ladies where Irish sailor Katie McAnena beat favourite Louise Emery with Sarah Finney in third. Louise beat Katie last year but after a winter in Oz and Maui, Katie's wave riding was much better and she choose waves on the inside to earn her points. Louise went out the back, waited for a big set and then got punished scoring 'nil poine'! But there is plenty more rounds for all these fleets so competition has only just started!
The double elimination was all about Phil Horrocks and Rob Jones who fought their way back through several heats to meet in a head-to-head. The winner would meet Ben Proffitt (who finished 4th in the single) and then the winner of that to meet Andy King and so on. Phil went out the back, miles upwind, waiting for a heat winning set wave but all of a sudden the wind dropped and being on a 68 litre board, the Welshman was literally out of his depth, wallowing around whilst Rob jones was taking advantage of the waves on the inside. But then the wind really disappeared and the heat was cancelled. The wind swung onshore, the sun came out and that was that for the day.
DAY 2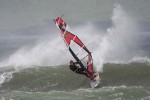 The most impressive UK competition finals we have seen for many years. Stradbally was 40-50 knots with mast high waves, absolutely howling cross-off, totally gnarly.
The top 6 men (Phil Horrocks/Rob Jones/Ben Proffitt/Andy King/John Skye/Jamie Hancock) were taken down to Stradbally in Knoxy's trailer with all their kit from the main base at Gowlane. The rest of us slowly made our way down in the vans, to watch the best in the UK sail in classic Brandon Bay conditions.
Rob Jones .v. Phil Horrocks: This was pretty close, Rob beat him in the waves but Phil beat him on jumps with a tweaked pushloop and backloop.
Phil Horrocks .v. Ben Proffitt: Ben had the better waves with some sick, late hits but also nearly brained himself by going for a double pushloop. Well not quite..... a howling gust sent Ben around again re-shaping his boom with his nose. A good comeback for Phil after his early exit from the single elimination to finish 5th overall.
Ben .v. Andy King: Andy didn't have a great heat. He didn't get out the back and floundered in the mass of white water, not like King at all which showed just how harsh the conditions were. He did impress the beach crowds with a huge backloop and the best wipe-out of the event but Ben was really on a roll and choose good set waves riding them all the way into the beach (literally).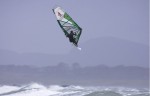 Ben .v. John Skye: A knackered Ben may have got the highest wave score in this heat but Skye was all over him in the jumps with a big pushy and a stalled forward as Ben limped home with a sore hand and a re-arranged face.
Skye .v. Jamie Hancock: Hancock got a real baptism of fire having not been out all day. He just didn't get into the waves till the end of the heat and by then Skye had racked up the points and the victory was his.
But this being a double elimination, Skye had to beat Jamie again and this time Jamie was warmed up and ready to go! With a better fluid style and wave choice, Hancock took the win and was absolutely delighted ringing all his family and friends - it was really quite sweet!
DAY 3
The Masters, Ladies and Amateur double elimination were completed today in perfect conditions: 4.7m weather and head high waves at Fermole (the one right in the corner of Brandon Bay). The Pros then took part in the Boardseeker Expression Session at the tide rolled in.
Two rounds of Masters saw Nigel Treacy and Big Davey battle it out for first place in both finals. Davey and Nigel kept meeting on the same wave and the atmosphere was tense but it was the Scotsman who took both victories and Davey now leads the Masters going into the final day. Word should also go to Damian De Backer who probably had the best day of his 'short competition career' to make the finals. We think he will be back for more fun at Rhosneigr next week.
The Ladies also had a good day of competition. Katie McAnena won Round 1 held at Gowlane on Wednesday so Louise Emery was on a comeback keen to regain her Irish crown. So in the second round, Louise caught two good waves and got the required jump to succeed against Katie who really didn't sail up to her usual standard. So now to the 'sail off' (round 3) but it was Sarah Finney who was looking good, catching a good wave out the back. Louise rode on right into the beach, doing as many turns as her skills would allow. Katie had a much better heat and got the jump in so it was very close. Unfortunately for the girls Head Judge Duncan Coombes held onto the result and it will be announced at 9pm Friday night at Spillanes.
Onto the Amateurs, and Rhosneigr local Alex Tritten was firing right up until he broke his UJ in the heat against Ian Gibson. Who knows how far Alex could have gone - the judges nick named him the 'Secret Weapon' and suggested he would have done alright in the first few rounds of the Pros.
But it was Scot McDowell who really had a good day coming from the back of the fleet to beat his fellow countryman and camper van companion Ian Gibson on a head to head to see who would meet local hat maker Niall Mellon. Half a point was all it was between Scot and Niall with Niall edging ahead in the waves. McDowell was heart broken and was last seen painting himself blue and white whilst looking for a big stick down on the beach muttering 'Revenge, revenge'!
Niall then meet Steve King, fresh from a world of advice from his brother Andy, Steve ripped through the heat, out jumping Niall and proceeding to the first showdown with the single elimination winner Dave Horrocks.
Rolls were reversed today as Phil Horrocks became the rigging monkey for his younger brother. All the latest JP/NeilPryde gear was rigged and ready for young Dave and again Phil gave him lots of advice on how to beat a KIng. However, it mustn't have been the right advice as Dave lost in the first final and under double elimination rules, Steve King had to beat him again. Dave didn't have a good heat, Steve was all over it with goita's, good wave choice and a nice forward loop. He win again to become Amateur Champion.
The Boardseeker Expression Session had a top prize of 100 euros (60 for second/40 for third) which meant most of the Pro fleet got out there and busted some big airs. 16 sailors, 4 man heats with ONE sailor making it to the final. No surprises to see Phil Horrocks make it, John Skye and Ben Proffitt who did a double and a taka in his heat. A name you may not be familiar with outside of Ireland - Mikey Clancy also made it to the final and really impressed the judges with his radical style. Slightly controvesial but Mikey took the win with a high backloop, Horrocks in second with a wet-landed double and Ben in third with a pushloop.
DAY 4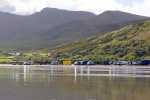 The wind blew though the night and sailors waking up early thought they would have to do it all again. But by 11am the winds had died leaving only a 4ft swell. Brandon Bay had blown itself out and all there was left to do was clean all the sand out of the vans whilst enjoying some long awaited Irish sunshine!
All PHOTOS by Simon Crowther. Full results.