Weymouth - Day Two
2 November 2009
RYA Youth & Masters / UKWA British Open Championships, Weymouth Sailing Academy
NOW Including RYA Press Release
Now Including Raceboard-Report-Champion Raceboard-Report-Champion by Dave Hackford
Day Two - Blown out
Unfortunately day two of the RYA Youth & Masters / UKWA British Open was blown out with strong winds 30-50 Knots all day. There was a short window around 12 noon and everyone rushed to rig as the wind dropped to around 25 knots. The race officer and crews worked at rapid pace and the course was set within minutes. Unfortunately the forecast was correct and this window was extremely short. Just as the Formula and RS:X fleets got ready to leave the beech, back came the wind. The crews stayed out on the water hoping to provide racing for the competitors. As the afternoon progressed it became obvious that sailing would not be possible and the event was called off.
The Robert Cartwright Memorial Trophy was awarded this weekend at the RYA Youth & Masters/UKWA British Open.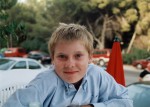 The 2009 winner is Adam Purcell
Thanks to all that made this such a fantastic event.
 RYA Press Release
Press Release
3 November 2009
RYA's top youngsters prove themselves at RYA/UKWA National Windsurfing Championships
The RYA's best young windsurfing talent took to the waters of Weymouth and Portland this weekend (31 October, 1 November) where they scooped the crop of titles up for grabs at the annual RYA/UKWA National Windsurfing Championships.
Held at Weymouth and Portland National Sailing Academy (WPNSA), the event which traditionally rounds up the competitive windsurfing season, saw over 120 of the UK's top windsurfers battle it out for National titles in their respective classes with RYA squad sailors picking up an impressive haul.
Hampered by impossible winds gusting up to 40 knots on the second day of the event, the championships were decided by Saturday's racing which saw contrasting light shifty winds making for some challenging conditions across the classes.
Making the most of his preferred light wind conditions, Skegness' 13-year-old Robert York, put together an impressive four race performance finishing eighth overall in the Techno class securing the boys 6.8 class victory and National title comfortably ahead of fellow RYA National Techno Squad sailors Oliver Bradley-Baker and Max Bushell.
In the girls 6.8 Techno class 13-year-old National Squad sailor Imogen Sills started her National title campaign well beating World champion twin sister Saskia in her first race. Her success however was short lived unfortunately and after being struck down by illness at lunch time and rendered unable to compete in the afternoon, Saskia was able to race ahead and cruise to glory adding the National title to her World victory.             
RYA National Squad sailor and 6.8 Techno World and European champion 14-year-old Kieran Martin stepped up into the 7.8 Techno class for the event taking on Macclesfield's 14-year-old Adam Purcell for the 7.8 Techno title. Cheadle's Martin put in an absolutely blinding debut performance winning every one of his four races to claim the National title and a well deserved class victory.
Purcell however didn't go away empty handed, picking up third in the class as well as being awarded the annual Robert Cartwright Memorial Trophy for his performance and general attitude, progress and commitment throughout the year, personifying what windsurfing meant to Zone Squad sailor Robert Cartwright. The recipient of the award is chosen each year by Robert's family and previous winners have included Skandia Team GBR sailor Richard Hamilton, Paul Sibley, Lindsey Smith and Matt Brown.
Cheltenham's 15-year-old Laurel Townsend followed Martin's lead in stepping up into the 7.8 Techno class at the event and finishing fifth overall in the Techno fleet the National Squad sailor just piped Clevedon's Noelle Finch to the National title.
RS:X Youth Squad sailor and girls World champion Izzy Hamilton, 17, from Holsworthy, cruised to a comfortable win in her class finishing sixth overall ahead of fellow west country competitors second placed Sophie Bailey (17,Bude) and third placed Becky Plummer (16, Bridgwater).
The boy's RS:X youth crown went to 17-year-old George Bowles from Brigg, North Lincs, who finished fourth overall ahead of Skandia Team GBR's Bryony Shaw who picked up honours in the open RS:X Womens class.
18-year-old Clevedon sailor Ali Masters, now training in the elite Skandia Team GBR stable, proved himself king of the RS:X class posting bullets in all his races and claiming the open RS:X Men's title.
Other youth victories went to Richard Jones in the Formula Youth class and Sam Latham in the Raceboard Youth class.
Long standing National Champions, husband and wife duo Annette and Robert Kent wiped the floor in the overall Raceboard class with Robert winning all four of his races and Annette finishing streaks ahead of any other women's competitors; tenth place overall. Chris Gibson and Janet Pain picked up veteran titles with Andy Mexome clinching the unlimited title.
Competing at his first event as UKWA Chairman, Bob Ingram posted an impressive second place in the Formula National class behind Chris Bond, with Tim Gibson picking up honours in the Master class and James Briggs in the open class.
For more information visit www.ryaracingevents.org.uk or www.ukwindsurfing.com .
Ends
Ellie Williamson
RYA Racing Communications Officer
T: 023 80 604219
M: 07769 505203
E: ellie.williamson@rya.org.uk
Picture caption: Kieran Martin adds 2009 boys 7.8 Techno National Champion to his 6.8 World and European titles. Credit Jon Parker/RYA
Notes for Editors
About the RYA
The RYA is recognised by all government offices as being the negotiating body for the activities it represents. It continually fights for the rights and freedoms of its 103,000 personal members, the majority of whom choose to go afloat for purely recreational non-competitive pleasure on coastal and inland waters.

It represents a further estimated 500,000 boat owners nationally through its 1600 affiliated clubs and boat owner associations.
Olympic and Youth sailing is a beneficiary of the Lottery funded World Class Programmes (WCP) and administered by the Sports Councils. The Programmes focus on performance sport with the aim of achieving sporting excellence on the world stage. Further information can be found on the UK Sport website at www.uksport.gov.uk

and Sport England's website at www.sportengland.org.
Further information can be found at www.rya.org.uk 
About the UKWA
The UKWA is a voluntary association which promotes both recreational and competitive windsurfing across the disciplines including course racing, slalom, wave, freestyle and speed.
For more information visit www.UKWindsurfing.com