Youth & Masters Formula Worlds in Peru - Day 1
4 January 2009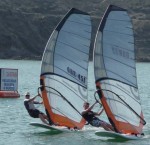 After days of perfect wind, it decided to take a holiday for day 1 which is quite usual for windsurfing competitions!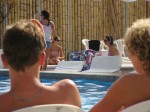 Not to worry, the GBR riders were busy relaxing by the pool.
Yesterday the practice race went fine for yours truly who won overall (including the youth).
Richard was trying a new fin and he was a few places behind. Richard didn't like that fin so he should be quicker with his normal one.
Richard Pikul is another Master who didn't do the practice race but beware, Richard will be quick with all the best kit (Kashy fin, Starboard 160, Neil Pryde).
I brought here both Starboards, the 160 and the Formula One Design. In the end I decided to register the One Design.
In the youths, Maciek from Poland was quick but broke a mast during the practice race. Jules (FRA41) was fast too so Richard will have some strong guys to race against.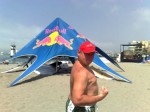 Our Chairman had a difficult start in the unusual light wind conditions but battled hard with another grand master.
I gave him plenty of tuning tips so I'll be quicker for the first official race!
Hopefully, we should get better wind tomorrow as the wind has been perfect up to now.
The opening ceremony last night was fantastic and a tribute to the enthusiasm and hospitality of the Peruvians - well worth the trip!
Watch this space - We'll keep you posted.
Xav - GBR451