Animal Poole Windfest 2010, Freestyle report
15 September 2010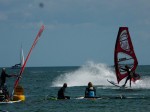 With the pro freestylers back in the country things were looking good for a great and competitive weekend with Animal putting up prizes for the prestigious UKWA National Freestyle Championship 2010.
Timo Mullen kicked things off on Friday with some heats on the harbour side; falling tides, wind and sun cut things short but some sick freestyle was there to be seen and it was a great way for everybody to catch up and warm up.
Early on Saturday Trevor Funnell had everything set up ready for a solid session of pro and amateur competitions, with a good turnout of sailors for each category. Conditions were improving with the wind coming in from the west, consistent enough for a set of heats for both the pro and amateur fleets. It was great to see the pros effortlessly producing huge moves and giving all us amateurs something to aspire to! …. And then came the huge Saturday night party with live music… with some more big moves being produced ….but this time on the dance floor … great night!
Sunday saw the wind shift to the NW, just not quite enough to get planing. What were a revelling crowd of pumped up freestylers to do? Trevor spoke to the Windfest organisers and Vortex Kite Wake N Ski laid on two jet skis to run a fully powered and planing tow in freestyle event!! Thanks Animal!! There were some epic wipe outs as everybody strove to pull off the move of the day. While the Red Bull Aerobatics team put on a breathtaking show above us, Max Rowe took the tow in title on the water with a sick no-handed flaka.
Windfest lived up to its reputation and was a great weekend all round. A very big thank you goes out to the organisers of Animal Windfest for hosting this event and providing the backdrop for the UKWA British National Freestyle Championships and to Duncan Coombes of the PWA and all other who helped judge. Additionally, a huge thank you to Trevor and Linda Funnell who have put in endless effort this year running the freestyle tour, having made it made it what it should be, fun!
Report by Oscar Carmichael. K668,RRD, 1st Youth 2010.
The results.