BSA Tenby Easter Slalom
7 April 2010
SATURDAY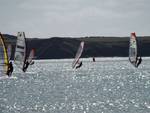 Easter Saturday saw a gathering of windsurfers at South Beach, Tenby for the first ever BSA slalom event. Competitors travelled from far and wide, with some arriving early to take in Ant Baker's clinic on Friday and others blasting across overnight after the Round Hayling event.
Moderate winds greeted the forty or so competitors and it was decided to run a master blaster, which turned out to be a Master Disaster for most, with the tide becoming stronger than the wind, making it impossible for all but the leading riders to make the mark. Alan "Twinkle Toes" Jackson wobbled his way to victory in far from perfect conditions.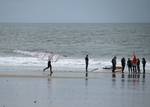 The wind never really materialised for the remainder of the day, allowing plenty of time for competitors in the Pros and Amateurs to prepare their kit for the rest of the event, with many rather out of practice after a long cold winter off the water! The Master Blasters had racing however and those who could lay their hands on longboards or windsurfable SUP boards were rewarded with high placings in the light winds.
With an excellent selection of bars and restaurants, most headed for the historic walled town in the evening, with the UKWA crew and several others choosing an Indian restaurant where some of the service was delivered with a combination of Basil Fawlty's manners and Manuel's incompetence... Decent food though!
SUNDAY
Sunday's wind, which had swung offshore, was building nicely and with sunny skies there was great expectation as racers prepared their largest kit. Race officer Paul Sibley placed the generously sized figure of eight course precisely where the wind was best. Meanwhile, back near the shore, the Master Blaster fleet raced every hour, starting and finishing on the beach. Numbers were boosted by several keen youngsters joining in for the day.
R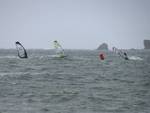 acing for the Pro and Amateur fleets commenced and the holiday visitors taking in the good weather on South Beach were treated to exciting races, backed up by superb informative commentary by the BSA's Chris "M.C." Lewis over the PA system. Unfortunately, just as the Pro Fleet second round was underway, the wind began to dip just below the minimum so it was decided to send all fleets back for lunch.
A testing afternoon followed for the race crew with the gusty, shifty wind preventing them from laying an appropriate course. It did eventually settle and the Amateur fleet saw four rounds completed with some good fast sailing when the wind was up, mixed with occasional wallowing through the lulls. Conditions favoured those who could stay light on their feet to stay planing through the light patches with Marie Buchanan taking a couple victories and Michael George grabbing his second bullet of the event.
MONDAY
The forecast for Monday had looked promising for several days and those hoping for strong winds weren't disappointed. A classic 4-gybe downwind course in 6.5-7.5m weather offered the pro and amateur fleets fast and exciting racing and a real treat for spectators on the beach, including many who had stumbled upon the event while taking a Bank holiday stroll on the beach!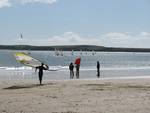 The Master Blasters demonstrated strong determination, sailing on through increasing gusts and several rounds of competition. Tushingham's Chris Murray, fresh from losing his way in the Round Hayling event managed to join in for a few races and turned a few heads by looping a 7.6 in the middle of the racing! This division brought together young T-15ers, teenagers and older riders with healthy numbers of both male and female. With regular races through the day and a simple "off the beach" format, these riders enjoyed the most racing of all fleets with superb camaraderie amongst all sailors.
At the front of the Pro Fleet, which was delivering awesome action right off the beach, Guy Cribb proved too hot for team mates Mat Pearch and Ant Baker taking event victory with 3 round wins out of 5. Young Sam Latham showed an impressive turn of speed and excellent consistency to claim sixth place ahead of many far more experienced rivals.
In the Amateurs, a strong performance by Marie Buchanan saw her take third overall, on equal points with Michael George who claimed second on count-back. Just a hair's breadth in front after 10 rounds of epic slalom competition was Nick Martin, taking a well-earned victory in a wide range of conditions.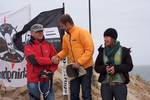 FINAL RESULTS
1st Masterblaster: Dave Kent
1st Junior Masterblaster: Ben Marshall
1st Woman Masterblaster: Jo Wright
1st Amateur: Nick Martin
1st Woman: Marie Buchanan
1st Pro: Guy Cribb
1st Pro U20: Sam Latham
Winner of Tushingham X-15 sail in prize draw: Daisy Brooks
With the BSA-sponsoring brands all turning up in force, racers and free-sailors had access to plenty of demo kit and expert help both on and off the water. On visiting the beach all non-windsurfers instantly knew there was an event on, with flags decorating the area and Chris' legendary commentary booming out of the PA system. In fact, as a result of this effort, numerous competitors were questioned by the beach-going public, with many of them taking real interest in the proceedings.
The UKWA race crew worked hard through three long days to deliver great racing to a diverse group of windsurfers. Rat Rigs Watersports, Starboard and Tushingham provided prizes and the Surflink club were particularly accommodating to all competitors. It was great to see a good local contingent competing at all levels, with success for Nick Martin and Ben Marshall in their respective fleets.
The BSA series moves on to the OTC / Tushingham / Starboard sponsored event on the sheltered but often windy waters of Portland Harbour, Weymouth on 24th & 25th April. It's a perfect location for an easy in introduction to slalom in the Master Blaster fleet or, if you think you're fast, a great opportunity to test your skills against the country's elite!