Cup One-6 days to go
26 April 2010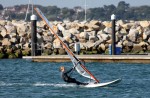 With only six days to go to the first round of the UKWA cup series the online entry system closes today Monday. You will however be able to enter on the day as usuall. There are new Sailing Instructions for 2010 2010 sailing instruction inland & cup with Diagrams. Please print a copy and bring to the briefing.
Do not book your overnight camping with Weymouth. The UKWA has agreed a reduced price, but this only applies to those paying for camping at registration.
Saturday night will be the UKWA- AGM at 8pm. Please make every effort to attend. 'Its your Association'
Sunday night will be 'Party Night' with a DJ booked for the welcome to the UKWA party upstairs in spinnakers.
Weymouth, always offers course racers the very best sailing available in the UK, this is your oppertunity to sail at the 2012 olympic venue and share the facilities which will be on offer the the worlds best windsurfers.