Derwent-Report
25 May 2010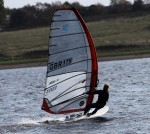 Derwent Report
 'Oh ye of little faith'!!!
 Despite the simply awful forecast for next to no wind 50 competitors turned out to race at Derwent Reservoir last weekend.
Some apparently had more trouble than others; one family had arrived one week early, so for all those who think Derwent is a long way, well some people do it two weeks running!! Another unfortunate family despite having a sat nav went to Derwent in the Lake District before realising they were in the wrong place. An honest mistake, but do those sat navs lie? I don't think so.
Saturday morning greeted competitors with a beautiful warm morning and with the forecast being so grim the glassy lake was no surprise. Sailors resigned themselves to a day's sun worshiping. Fortunately race officer Tessa Ingram and Safety crew leader Rob Strange were having none of it. They were our on the water early preparing the course and all the equipment needed for a great days racing.
By 11 am the first signs of wind were seen rippling down the lake. Quickly Tessa called a race for the junior fleets and a small but challenging upwind-downwind course was set. As the juniors raced it became apparent that the wind was building and the main course was set, upwind downwind with a gate on the downwind leg.
Soon all fleets except formula left the beach and racing began. The race officer ran three rounds of racing for all raceboard classes back to back, sailors were then given a short but well earned break before being called out for a final race of the day just after 5pm. To everyone's surprise the formula fleet also got three rounds of racing in. There was no fudging here; good wind throughout saw some spectacular racing for formula sailors.
Sunday greeted sailors with the same conditions as on Saturday, sunshine and a millpond. This time however sailors were not to be kidded and almost all were ready to go by 10am. It took a little time but the wind built and by 11am there was racing for all fleets. As usual this took some formula sailors by surprise and at one stage just Chris Bond was on the start line, however as the minutes ticked away the remainder of the fleet arrived and off they went. I am reliably informed hard hearted Tessa was not waiting for the rest to arrive, so just as well they arrived with just seconds to spare. Racing went on throughout the day with strengthening winds sometimes in excess of 20 knots. 5 rounds of racing for all raceboard fleets and 6 for formula meant 9 rounds for all fleets over the two days.
Our thanks to Derwent sailing Club, to race officer Tessa Ingram and her boat crews, to Rob Strange and his safety crews, to NEWS, to Sue Ingram and the admin team and to everyone else who assisted in making this such a memorable event.
Our sincere thanks to Overboard for their continued support of the UKWA and the product prizes they awarded.
Results
1st 3.5 Aaron Howram
1st 5.8 Jordan Howram
1st Techno Joe Bennett
1st Raceboard Mark Kay
1st Formula Dave Coles