Formoor-Inlands 4 This weekend
30 August 2010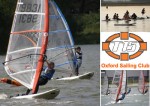 This Weekend 4th & 5th September will see round four of the UKWA Inland series. Farmoor is a very friendly club, has great facilities and plenty of grass for rigging. See below for further details and see Inlands 4
Once again we are looking forward to the UKWA Inland Series Event this Sat and Sun, 4 and 5 Sep. As usual the first four races on the Saturday will count towards the LWA Summer Series but we'd like to encourage as many of our LWA sailors as possible to support the two-day event which is part of the UKWA Inland Series.
We're hoping to get the usual hot racing fleet and there'll be Juniors also. Oxford is a very friendly club and many of its members and officers are windsurfers so we always get a great welcome.
All the info is on the LWA website, camping is available nearby on the Friday and Saturday nights at £5 for one night, £8 for two nights.
Don't forget to bring some £1 coins for the Thames Water Parking Ticket machine, tickets cost £2 per day and are now obligatory.
The Oxford SC Caterers have offered to put on a barbecue on the Saturday evening - all those who went to the Race Training Afternoon in July will tell you what great value the barbie is for only £5 per head.
The barbie will go ahead if we have a minimum of 30 people signed up by 10:30 am on the Saturday morning. If you are intending to sign on for the barbecue, it might be a good idea to bring some food anyway just in case we don't get the full 30 and are unable to go ahead.
Looking forward to a great weekend's windsurfing - see you there!
Your LWA Committee