Formula Windsurfing Worlds
26 March 2010
Xavier Ferlet, Potrerillos - Mendoza - Argentina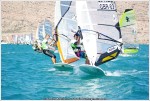 The Formula Worlds didn't start very well with Delta losing my kit and suitcase in Atlanta after charging $800 for excess baggage.
Fellow competitors were very nice by lending me all the kit. Ross Williams lent me a Gaastra board and mast. Gonzalo Costa Hoevel lent me a Maui sail 11.0. Steve Allen lent me a fin. Joan Fleury lent me a boom. Willem Schurmann lent me a harness. Alberto Menegati lent me some fin bolts. The best bit was Arnon Dagan lending me a wetsuit. Arnon must be 6'4" and I'm 5'10"!
Day 1 saw Ross finishing in 3rd place behind former team mate Steve Allen and Paulo Dos Reis from Brazil. All eyes were on Antoine with the new JP board but Antoine was sitting in 6th with another French rider just in front of him (Nicolas Warembourg).  Was that the end of an era?
Yours truly did better than expected on borrowed kit and finished the day in 22nd.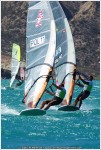 Day 2 saw Antoine reminding everyone who's the boss by posting a 2nd and three 1st. The big man was flying again. Ross was doing great despite a collision in the last race and finished the day in second place. Yours truly was happier with his own kit that had finally turned up and finished the day in 25th.
Day 3 saw loads of spectators turning up. We weren't the only attraction though. The bikini open was on and the girls were a credit to Argentina!!! Ross finished the day in 2nd thanks to consistent results while Casper Bouman from the Netherlands turned the heat by winning the last two races. Antoine was well clear in front with top results. It's interesting to see that the game is always open in Formula. The temptation was too much in the evening and I enjoyed an Argentinean speciality: Tango!
Day 4 was a bit of a roller coaster for Ross when he dropped out of the top three after two races. The second race of the day was the best one for me when I was racing with Ross on the downwind leg. It was a good race for me but a bad one for him! I finished this race in 15th position. In the last race of the day Casper had a footstrap coming off while Ross came 7th and that was good enough to put him back up in 3rd overall. Paulo Dos Reis, the strong man from Brazil, jumped up in 2nd.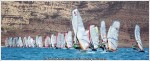 The trip was also a great opportunity to sample Argentinean hospitality. People here really go out of their way to make you feel welcome. From the traditional matte to lifts to the race site, the Argentineans help you with a smile. Potrerillos lake near Mendoza is an amazing place. It's always windy, the sun always shines and the water is always blue!
Pictures courtesy of Gabriel Palmioli / www.windsurfargentino.com
Words by Xavier Ferlet - GBR451 - sponsored by Starboard, Neil Pryde and Boardwise.