Hunstanton-Freestyle Report
13 July 2010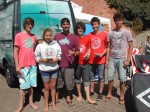 Hunstanton Freestyle Report - Trevor Funnell
UKWA FREESTYLE TOUR 2010.
 Event 2, Hunstanton, 10/11 July.
The forecast for light winds over the weekend unfortunately kept entry numbers down for both the slalom and freestyle at Hunstanton, a location that is a bit of a mission to get to for most South Coast sailors.
Those that did make the effort were rewarded with what turned out to be a really good weekend at the Lifestyles Festival, which is a bigger and better version of the old Wind Festival that we used to head up there for around seven or eight years ago.
The range of activities on offer was huge, lots of stands selling all sorts of stuff, the usual skateboard and bike ramp shows, a Classic VW show and some great bands playing throughout the day and late into the evenings.
On the water there was a round of the BKSA kite championships going on along with the UKWA Slalom and Freestyle competitions and instruction clinics by experts in all the various watersports.
Saturday was incredibly hot and a really chilled atmosphere prevailed but around lunchtime a light breeze started kicking in so a freestyle expression session was called for.
All the sailors out on the water at the same time meant it was difficult to decide on a winner but our guest judges Nik Baker, Mat Pearch and Fred Willis did a sterling job and 14 year old Oscar Carmichael came out on top in mostly non planing conditions.
The evening highlight was an excellent barbecue right next to the main band tent by event sponsors Quayside, good food and good sounds, thanks very much to Neil and the crew. Sunday's forecast was looking good for a prompt start so most people took the early night option.
The wind on Sunday morning was cross shore from the left at around 16-18 knots so we ran an Expression Session to get people warmed up, this time we had Ant Baker and Jem Hall as guest judges and they were both impressed by the standard of sailing and handed out a lot of good advice afterwards.
After a short break went into a full round of freestyle with proper planing conditions throughout. Local sailor Kieran Ryan and young Oscar Carmichael were the standouts with excellent performances also from Sam Conroy and Charlie Jones. Emily Hall as our only lady entrant also sailed well in her first freestyle competition.
The contestants all agreed with me that another round was not going to be much fun in the dropping wind and the small amount of water left after the tide had gone out it's usual mile and a half so we called it a day and Nik Baker kindly presented the awards.
Thanks to all at Sunny Hunny for a great weekend, see you next year.
Trevor Funnell.
Event Results.
Oscar Carmichael.     1st Minim and 1st Overall.
Kieran Ryan.              1st Amateur
Sam Conroy.              1st Youth.
Charlie Jones.             1st Junior.
Emily Hall.                  1st Lady.