Hunstanton BSA Slalom Report
18 July 2010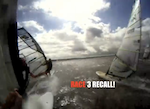 It was the first time Quayside Windsurfers had hosted a BSA event and some time since Hunstanton had seen a national windsurf event come to its beach, but everyone was looking forward to racing at this flat water location. Saturday dawned to the hottest day in 2010 with temperatures reaching 36 degrees with blazing sunshine (something we are used to on the East coast!) but sadly no sea breeze kicked in so it was a good time just to chill out, grab a paddleboard and go for a cruise across the glassy waters of the 'wash'.
The Quayside Windsurfers guys had put on an impressive stand showing off the spanking new 2011 Fanatic/North kit, the Version 2 RRD boards, Severne sails and Thommen boards together with a massive selection of bargain priced kit for sale over the weekend.
Saturday evening all the competitors were invited to a BBQ hosted on the Quayside Windsurfers stand which was located right next to the club bar and in front of the 'Live Band' marquee. Everyone just chilled out whilst we admired the sunset and listened to the live music on offer and the thousands of people who had came to the event.
Sunday was a different story... with a decent SW wind blowing, everyone was up early to rig up for the 8.15AM race brief. The plan was to race a five buoy downwind slalom whilst the tide was high - this in short choppy water. Matt Pearch got off to great start winning the first four races - in the Amateur fleet Micheal George remained in charge with a solid first in every heat with Warren Rowe, in his first year of Slalom, taking second and with Quayside Windsurfers own race team, Team QSW rider Steve Chatten, taking third.
Later in the day the wind swung round to Westerly which allowed for some figure of eight racing along the channel - for the Pro fleet this meant a whole new ball game as this is not Matt Pearch's preferred course. It showed as he came in 4th and 2nd behind Richard Jones, James Dinmore and Simon Coldfeild in the first race and Richard Jone in the second race.
The Masterbasters had a great time too with ten races being held and with many new 'wannabe' racers joining in the fun. Rob Duggan came first overal with Jim Hall taking second and Jack Trollope coming third.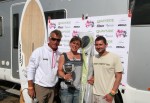 The Exclusive 'Windsurfers Of The Weekend' Cup went to Mandy Body who entered the Masterblaster event with no sea sailing experience and having not sailed sails 6.5mtr in size. "This is the spirit of the BSA with people just getting involved" said Neil Greentree of Team QSW and Quayside Windsurfers.
So the overall results were:
Pro Fleet:
Matt Pearch
Richard Jones
James Dinmore
Amateur Fleet:
Micheal George
Warren Rowe
Steve Chatten
Masterbasters:
Rob Duggan
Jim Hall
Jack Trollope