OTC Winter Slalom Series - Saturday 20th
22 November 2010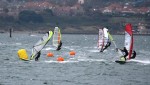 After a couple of 'dry-runs' earlier in the month due to a lack of wind, the OTC Winter Slalom Series struck it lucky on Saturday with steady easterly winds, allowing for six races to be held in quick succession. Despite the irregular wind direction, the simple 4-buoy course allowed for a 'slipway' start and finish, adding to the atmosphere amongst the competitiors and the crowds watching on.
Local favourite Kev Greenslade was undoubtedly the man to beat, so with some cunning handicaps delivered to the leaders after each race, it ensured everyone was put on a level playing field. It seems we'll have to extend his penalties though, as Kev still managed to pip his peers at the post! The results are as follows:
Kev Greenslade
John Kennedy
Simon White
Andy Chandler
Andy Bramah
Thanks to everyone who turned up. The next meet is on the 4th December at OTC UK. To be kept up to speed with news of the series, subscribe to the UKWA Weymouth Slalom mailing list (make sure to select 'Weymouth slalom' from the drop-down).
For more information and images from the event, go to OTC news.