UKWA Spartan Speed Champions 2010
27 October 2010
Kevin Greenslade and Zara Davis take the crowns at Weymouth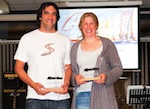 The Dakine Weymouth Speed week was a great success this year with racing every day. The event is extremely popular with over 120 people taking part.
It is held in October to try and make the most of the prevailing SW winds. Unfortunately the winds were mainly moderate from the North this year which made Speed sailing tough in the harbour. This did not stop the competitors achieving some very high speeds in many cases over twice wind speed. Kevin and Zara were the victors on the windiest day, Tuesday with Kevin in 16 to 18 knots of wind was hitting over 34 knots and averaging 32.75 knots over the 500 metre course. This was also a counting round in the ISWC speed world tour and Zara's 1st place here keeps her in the No 1 spot on the ISWC world ranking.
The big change this year was a move to using GT31's, GPS devices and GPS Results software to time and analyze the competitors. This enables the organisers to capture every run and give extremely accurate speeds of the riders. Pete Davis one of the organisers said " Great event and the new timing system gives us so much more flexibility on course's and angles when the UK weather doesn't do what its meant to, and most importantly we get everyone's run no matter how slow of fast, it is a major improvement"
The dates have been set for next year 15th to 21st of October and the registration will open 60 days before, so put a note in your diary now.
For those that cant wait, they can lay down some fast times on their GPS's and take part in the Boards British GPS Speed ladder which started at the beginning of Speed week and will end at the start next year. There are some great prizes up for grabs and are awarded lottery style on every run posted goes into a draw at the end of the year. See boards website for details and a the speed forum to arrange to hook up with other like minded individuals.