Wave tour date change - Ireland
30 January 2010
BWA Press Release

Due to circumstances very much beyond our control, we have to amend the 2010 Calendar with regards to the Ireland event only. We hope all members with understand.
Now the GOOD NEWS......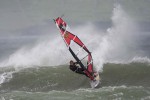 BWA, Jamie Knox and Funsport have worked hard to stage the best events yet. This year we are running the Ireland and Wales event back-to-back! There is NO change to the Wales event, we are simply changing the Ireland dates to follow immediately after. This means we are able to reduce traveling time and costs for all. In addition, the format should make completing the first 2 events of tour easier for Amateurs.
Tiree and Cornwall dates remain unchanged.
Ireland and Wales dates
Wales (unchanged): Rhosneigr Friday 14th to Sunday 16th May. (Pro all 3 days, Amateurs Sat & Sun only).
Ireland (changed): Brandon Bay Monday 17th to Friday 21st May (All fleets).
A true back-to-back event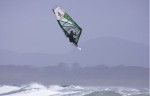 BWA, Funsport and Knox Watersports are proud to bring you the very first back-to-back event in a UK Wave tour. We have run events close together in the past but this is sheer madness !!! Up for the double header? then immediately following the Wales event jump on the Holyhead ferry with everyone and join the BWA Wave Tour 'Road Trip' to Brandon Bay!
We are working hard on the 'entertainment' so if you miss these events...don't weep when you see the photos in the mags!
Do I need to do both events?
Not at all. Competitors are welcome to do Ireland or Wales events singularly but we invite all to take the Wales/Ireland back-to-back challenge and enjoy an amazing trip....are you up for it????
So how will it work?
Get to Rhosneigr on 14th (15th for Amateurs).
Sail your heart out.
Join us all on the Sunday night (or Monday morning) ferry.
"ROAD TRIP" Dublin to Brandon Bay.
Sail your heart out...again.
Ferry / Drive home.
Congratulations, now collapse in a hot bath of Radox. You completed the Wales/Ireland challenge!
What now?
BWA, will be launching the main website mid february. We will publish regular updates and provide further details of all the events in the UK Wave Tour calendar
Book your return ferry
Tell all your friends
When shall I book my ferry?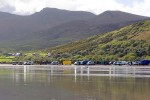 BWA is working with the ferry companies to get you discounts. However, there are some great 'early booking' deals available and we would recommend you take advantage of those.
Holyhead ferry: Book a late Sunday ferry if possible. If we get wind late Sunday in Rhosneigr, we may sail late! That said, there are lots of crossings and bookings are fairly easy to amend.
Return ferries:
Heading back South?: Cork to Swansea: the service is back! Great news with a ferry to take you home on Saturday 22nd!
Heading back East?: Dublin - Holyhead: Plenty of regular crossings.
Heading back North?: Larne - Troon, Larne - Caimryan or Belfast - Stranraer. Lots of choices and ferries.
Irish entrants. We hope see more Irish competitors than ever with plenty of crossings available for you.
The UK Wave Tour is brought to you by the BWA in association with UKWA.
Pictures courtesy of Simon Crowther.