Weymouth Report
6 October 2010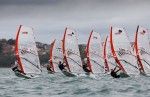 More Photos by Andy Watkinson
Raceboard Report by Rob Kent below
RYA Press Release
05 October 2010
RYA's best young guns prove their weight at 2010 RYA UKWA National Windsurfing Championships
The RYA's top young guns proved their weight this weekend (2-3 October) as they took on the cream of UK windsurfing talent and picked up a host of National titles at the RYA UKWA National Windsurfing Championships.
Staged at Weymouth and Portland National Sailing Academy, the two-day regatta which traditionally culminates the competitive windsurfing season, saw in the region of 100 windsurfers go head-to-head battling it out for National titles in their respective classes with RYA squads sailors picking up an impressive haul.
Light southerly winds graced Weymouth Bay on Saturday allowing for a full complement of three races to take place, but Sunday brought with it more of a challenge. An unsailable 45 knot gale put paid to racing for most of the morning making a full series look highly unlikely. Given time to moderate however, the afternoon presented fantastic racing conditions, a more favourable 15-20 knot breeze making for a highly charged and exciting climax to the event.
Skegness's Robert York, made no mistake in defending his 2009 Under 15 Techno crown finishing a comfortable five points ahead of his nearest rival Ruben Lansley, Barton-on-Humber, topping the fleet in three of his races and finishing tenth overall. Christchurch star Emma Wilson scooped the Under 15 girls' prize beating an impressive number of Under 15 boys to finish third in class and 13th overall.
The Techno 7.8m fleet was dominated by Cheadle's Youth Olympic Bronze Medallist and previous Techno 6.8m World and European Champion Kieran Martin. Revelling in the wind the RYA National Junior Squad sailor won four of his five races, proving his World class skill once again, with Macclesfield sailor Adam Purcell pushing him hard picking up a win in the third race to finish second, a close three points behind Martin.        
Techno 6.8m World silver medallist Emma Labourne, Barrow-on-Humber, made an impressive debut in the larger 7.8m class this weekend beating nearest rival Noelle Finch to the crown in emphatic style, losing just one race to the 16-year-old Clevedon sailor to finish up third overall.
Class honours were not the only prizes up for grabs. Barrow-on-Humber Techno 7.8m sailor Max Bushall was awarded the annual Robert Cartwright Memorial Trophy  for his performance and general attitude, progress and commitment throughout the year, personifying what windsurfing meant to late Zone Squad sailor Robert Cartwright.   The recipient of the award is selected by Robert's family and previous winners have included Skandia Team GBR's Richard Hamilton, Paul Sibley and Lindsey Smith.  
Holsworthy's RS:X Youth World Champion Izzy Hamilton again cruised to Women's Youth National title victory at the event beating the weekend's senior RS:X Women's title recipient Claudia Carney, Hythe, in the standings to finish fifth overall. Carney finished eighth, with Hamilton's West Country rival Sophie Bailey, Bude, finishing second in the Youth class just behind in ninth overall.  
On form RYA Volvo National Youth Squad sailor Connor Bainbridge put in a blinding performance over the two days posting bullets in four of his races. The 17-year-old from Halifax discarded a second in race two to pick up the RS:X Youth title in impressive style. Abingdon's Tom Squires took second nine points behind. George Bowels, 2009 youth National title holder, picked up the men's senior crown.
"The standard of competition amongst the RYA's National Junior Squad and the RYA Volvo National Youth Squad sailors is fantastic. There were some really close battles especially in the men's RS:X Youth fleet and Boys Under 15 Techno class this weekend and that tightness is great for the overall standard of our sailors in the UK," RYA Single Handed Pathway Manager, Kirsty Bonar commented.
"About seven or eight years ago we were struggling a bit for young windsurf racing talent in the UK so to have such a tight knit group of sailors performing to such a high standard constantly pushing each other like this is very exciting in terms of our future potential."    
She added: "It's also great to see a number of the RYA's Team15 sailors coming through at national level suggesting the grass roots initiative has really helped to inspire a new breed of young talent."  
Other victories went to UKWA chairman Bob Ingram in the Formular Veteran class, Dave Coles in the Masters and Jamie Walker in National division. And in the Raceboard class Bob's son Jamie Ingram picked up honours in the Men's division, Tom Naylor in the Veteran and Mark Kay piped long standing champion Robert Kent to post in the Masters class. Annette Kent successfully retained her Raceboard Masters Womens' crown.
For more information about the event click here and to see the full results click here and follow the link to the British Open Championships.
Ends
Ellie Williamson
RYA Racing Communications Officer
T: 023 80 604219
M: 07769 505203
E: ellie.williamson@rya.org.uk
Raceboard Report
Weymouth - Cup-6 + Youth and Master's championship.
A very strong fleet of over 30 raceboard sailors fought it out last weekend in the final Cup event of the year.
For the 2nd time this year we had special guest appearances from our Olympic squad in the form of Jamie Ingram and Ali Masters and this time they brought along a few of their friends !
In addition we saw the return of Mark Carney sailing the new Kona Elite (Follows on from the Exocet warp-X)
The weather forecast for the weekend was continuously changing with everything from now wind to a force-8 possible.
In the end Saturday turned out to be warm and sunny with a fairly gentle southerly wind making for some very tactical racing as the wind bent round both sides of Portland bill on the way into the harbour.
Race-1  - Saw Jamie, Ali and James Bullied at the front of the fleet up the 1st beat followed  Rob Kent, Dave Hackford and Mark Carney - The 2nd beat saw Rob Kent play the shifts well and pass the 3 front sailors close to windward Mark. Much to his own surprise Rob Kent managed to out plane the 2 RSX sailors down wind to finish 1st ahead of Jamie, Ali and James.
Race-2 - again saw the 2 RSX sailors again at the front of the fleet but this time Mark Carney demonstrating the impressive upwind performance of the Kona was able to split the 2 RSX sailors finishing 2nd after Jamie.
Race-3 - With the wind now dropping and beginning to shift this became a very tactical race with a big wind bend on the start line. James Bulleid seemed to read the situation perfectly and disappeared whole leg ahead of the rest of the fleet. Ali lead the rest of the fleet home followed by Mark Kay and Jamie.
Sunday started early as people were woken by the driving rain and 40 knot gusts rattling passed their camper vans. With the forecast set to moderate the race officer decided to postpone for a couple of hours giving the fleet the opportunity to demonstrate their free style skills in the flat water along Chesil beach.
The wind indeed swung west and dropped to around around 15-18 Knots and the fleet headed out for the Final 2 races. Jamie proved dominant in these windier conditions and won both races. Dave Hackford had a much better day banging in two 3rd places for with 2nd place going to James Bullied in Race-4 and Mark Kay in race-5   
Overall this has to be this year's most exciting and unpredictable events with the size and the strength of the fleet continuing to grow I think we can look forward to some amazing close racing in the final few events of the year.
So the final results left Jamie and Ali clearly in 1st and 2nd (Although it has to be noted they did not have it all their own way) followed by a close group of Mark Kay, John White, James Bulleid and Rob Kent. Mark Carney came a creditable 7th place on his 1st outing with the new Kona Elite.
Annette Kent was 1st Lady.
For the masters Marc Carney was 3rd, Rob Kent 2nd and Mark Kay 1st
In the overall Cup series Mark Kay (Starboard Phantom + Demon) took a well deserved Victory Followed by Rob Kent, Dave Hackford and John White (All on Starboard Phantom's + Tushingham XR)
Mark is also leading the inland series but Rob Kent, Jon White and Chris Gibson will be looking for revenge at the final Rutland event later this month.