Youth & Masters Formula World Championship Report
24 October 2010
Day 1 of the Youth & Masters Worlds was very windy. I was over-powered on the 9.5 m2 with 67 cm fin. Nevertheless, I was leading after the first day. Mathias Pinheiro and I had both won two races.
The organizers decided the second day should be the rest day ahead of schedule (Wed instead of Thu). It was a relief for most who were feeling battered after the 30 knot gusts of the first day. Ironically it was light winds during the rest day and it came back with a vengeance on the third day when racing resumed! Rest day was a great opportunity to discover the beautiful beaches near Araruama. Cabo Frio and nearby island were well worth a visit. The highlights were finding a turtle and sand surfing on a dune!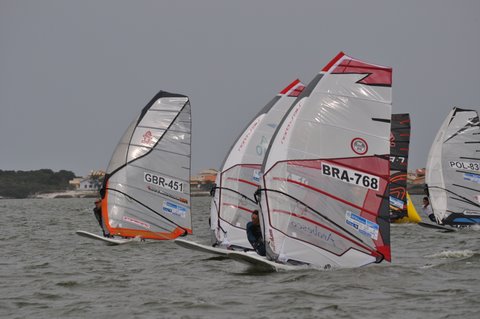 The third day started well for me with a first place but a collision during the second race was a setback that resulted in a massive bruise on my left leg. Mathias had the advantage in the following three windy races and he finished the day one point ahead.
The fourth day was very even too with both Mathias and I winning two races each in conditions ranging from 13 to 25 knots. In the end Mathias was two points ahead so the last day would decide the winner.
The last day started with light winds - around 9 knots. The big sails (12.0 m2) were at long last being used! Despite a lead at the bottom mark, I made a mistake at the tack which, combined with a bit of home advantage for Mathias resulted in him winning that race. That pretty much ended my chances of winning the title. Mathias actually won the last two races showing he was a worthy champion. I finished runner up but it was a great fight.
Overall, the regatta was very good with a full contingent of 15 races in various conditions. Race Director Bruno ran the show with usual confidence and respect for the schedule. It makes it easy for everyone to race. Araruama delivered the goods with consistent winds. The Brazilians were true to their reputation. They were friendly and enthusiastic! Demonstrations of Capoera (Brazilian martial art) and Samba showed some great aspects of the rich Brazilian culture.
Gabriel Browne won in the Youths, showing he's truly a world class racer. Paulo Dos Reis was a also a welcome competitor who won overall. Paulo is not old enough yet to be a Master but he showed everyone how fitness and strength pay off in Formula!
The traveling to Rio was very easy. I would recommend American Airlines. They charged $100 each way for a full set of Formula kit (4 sails actually with 5 masts) and checking in was simple. That was better than Delta which charged me $800 to go to Argentina and lost everything including my clothes at the first connection!
Roll on 2011. I hope to see more UKWA racers in international regattas! 2011 Youth and Masters Worlds are scheduled at the end of August in Denmark. Also, the US Nationals are scheduled from 11 to 16 July so it would be great to see more US-UK competition. Just let me know if you need more details about this event.
Xavier Ferlet - GBR451 Xavier is sponsored by Starboard, Neil Pryde (Adventure Sports in Miami) and Boardwise.