Getting 1,000 windsurfers out for W4CR
25 April 2011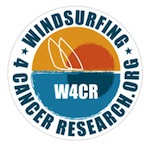 The Sunrise to Sunset event is back for 2011, it is not intended that everyone should sail all "daylight hours" but to go on the water and have fun with many like-minded sailors. With your help there will be more than ONE THOUSAND people on the water at midday.
Brian Roake (GBR170) has a unique challenge for the day:
I am racing with the UKWA at Weymouth all day Saturday then heading up to Hayling, staying overnight and getting on the water at 05:30am Sunrise with our late chairman David Tuttlebee's family and fellow islanders. I am then sometime later heading back to Weymouth to be on the water there, racing again to be on the water at NOON to be a part of the 1,000 on the water challenge.
So, please do support the W4CR challenge at the Cup event at Weymouth, you can find out more at W4CR, or you can enter here. You can enter as "taking part" to download sponsor forms or view how to set up your own JustGiving page to make it easy to help you get sponsored etc.