Inland Two-Derwent This Weekend
9 May 2011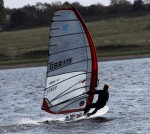 The Inland National Championships continues this Weekend 14th & 15th May at Derwent Reservoir: Full Event Details.
Set in a beautiful Pennine valley on the border between Northumberland and Durham and bounded by moorland and conifers. Derwent Reservoir is perfectly located and is within easy reach of Newcastle Upon Tyne. The Reservoir is 3.5 miles long and has a thousand acres of beautiful clean and open water devoted to windsurfing and sailing.
The two story club house built in 1965 is situated on the North shore and is well equiped with showers changing rooms a large club room galley bar rooftop patio and indoor workshop. Five generour slipways provide for easy launching.
Historically this event has provided some excellent racing and in particualar the formula fleet has benifitted from some excellent racing at this spectacular and friendly location.
See the Full Event Details for more.