Poole slalom June 16th
17 June 2011
Glen Truswell reports from Poole slalom on Thursday night:
NO, This is not some exotic foreign windsurfing location, this is Branksome Dene Chine (BDC) last night! (Full pictures)
Conditions: Sun, Clear Water, nominally 27 Knots
Kit Choice: 6.2 to 7m sail, 63 to 68 wide board, nominally just over 100 litres.
Men On The Move: James Dinsmore, Sam Latham, Alex Henshaw, Oli Woodcock
Last night BDC played host to some high octane thrills and spills as part of Poole Slalom's usual Thursday evening "social" racing.
Racing started on time and conditions could not have been better for the LONG 4 buoy downwind course. (First Leg ¾ mile!)
All participants were pretty much "stacked" but happy on their kit throughout, particularly as we were blessed with just enough southerly to avoid any unsavoury wind holes on the inside.
Racing was exceptionally tight so on this rare occasion any significant "off the beach handicapping" was largely scrapped as many proved they had the artillery to nail a race win if and when the mood took them!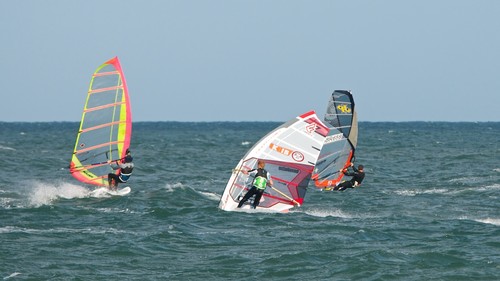 If you have yet to try Poole Slalom, I must strongly urge you to give it a go.
There's a great openness about these events and you'd be surprised just how many hard earned sailing tips the good guys put out there to help the group move forwards.
I hope we'll have the pleasure of your company on the water soon.
- Glen Truswell