Speedweek 2012
16 October 2012
The 40th Anniversary of Weymouth Speed Week was the host to the UKWA British Speed Championships sponsored by Spartan Wetsuits. Light winds for the first few days but they gradually built towards the end of the week. The conditions were tough on the first 4 rounds with winds from the east meaning a course set in the harbour and the inevitable chop! the final two rounds on the last day were the best with winds from the traditional SW and a flat course along the beach. Racing was very close between Ant Baker and the winner from the last two years Kev Greenslade,keeping them honest with some great speeds were Martyn Ogier and Nigel Spiggs having their own tussle for 3rd and 4th places. After 4 rounds both 1+ 2nd and 3 +4th were tied on points and only Ant's top speed giving him the overall lead. Kev , Nigel and Martin needed more round's.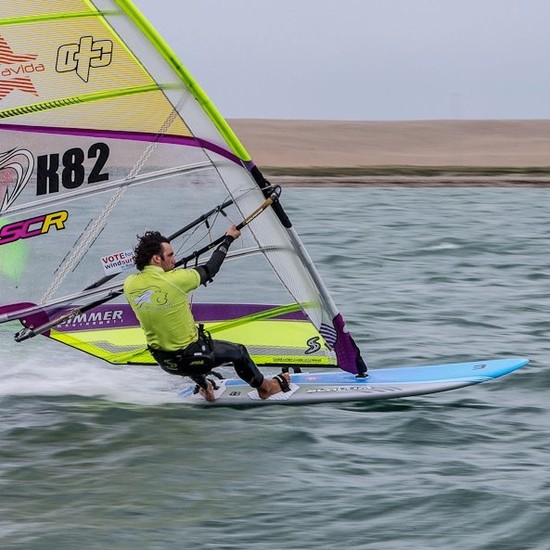 The last day was the best conditions and provided two more rounds and we were joined by the cream of British Slalom riders arriving early for the UKWA Slalom final on the weekend. Kev also had the added pressure of running the OTC centre and teaching in between races so added riders were not good news Ant on the other hand was looking cool. The 5th and first round was completed in fantastic conditions and the fastest speeds of the week were being laid down. As no one knows everyone's position the inevitable "how did you do?" started on each others GPS displays with most people playing it close to there chests not wanting to give to much away. Kev thought he had done badly and missed the final session. Little did he know that he had come 1st in the morning, matching Ant again on points! and with only one discard he dropped to 4th place and lost his title. This left Ant with a clear lead and the title of 2012 UKWA speed champion. Martyn and Nigel came 2nd and 3rd respectively and Zara Davis had little competition to win in the ladies fleet and won the title for a record 6th time. This should stand her in good stead as she is off to Namibia in November for a month to try and break the outright 500m women's windsurf record.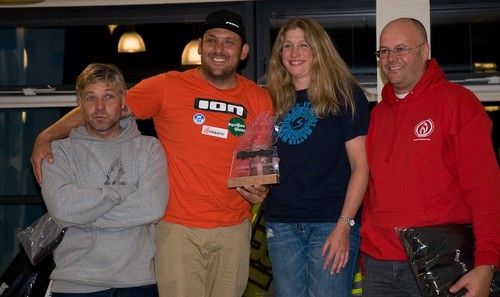 WSW was a big success this on this 40th Anniversary year. With over 120 riders and some very close racing combined with fantastic equipment and gear on display from the last four decades of speedsailing and to cap it all off even Johnnie Walker made a reappearance.
See you all next year, dates are set 12th to the 19th of October.
Final UKWA speed standings. Pictures courtesy of Dave White, more on his Facebook albums.