Gold for Nick at RSX Worlds
6 March 2013
Dempsey writes windsurfing Worlds history
Olympic silver medal-winning windsurfer Nick Dempsey today etched his name into the history books by becoming the first man ever to win two RS:X Windsurfing World Championship titles.
There were double celebrations for Skandia Team GBR, with Bryony Shaw also claiming silver in the women's fleet - her first ever podium finish at an RS:X World Championship, on Wednesday (6 March).
The 32-year-old Dempsey claimed gold in emphatic style at the Brazilian venue of Buzios, going into the final medal race with a nine-point lead over Dutchman Dorian Van Rijsselberge - the 2012 Olympic Champion.
Light winds delayed the start of Wednesday's medal races, but they eventually got underway in 12 knot shifty and gusty conditions, with Van Rijsselberge, the 2011 World Champion, quick out of the blocks. Dempsey had a slower start in the 10-board finale, but sailed a superb second upwind leg to move back through the fleet and maintain his hold on the gold medal.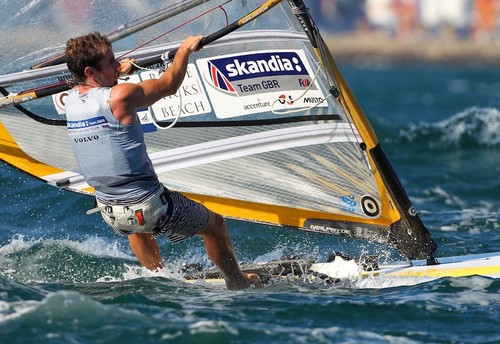 The Weymouth-based windsurfer adds this 2013 title to the world crown he won on home waters in Weymouth and Portland in 2009, and admits it was "pretty good" to be the first male winner of two RS:X world titles, and that the win is a great boost at the start of his Rio campaign.
"After the Olympics, I didn't know if I wanted to carry on. I didn't know if I still had it in me. But windsurfing is what I love, I love doing it," the Skandia Team GBR sailor explained.

"This trip has been great preparation for Rio and I think it's going to suit me there. It's going be slightly lighter in Rio than here, but I'm one of the smaller guys in the fleet so hopefully that will work in my favour."

"I didn't really have any idea of how I was going to perform [at the Worlds] after so long off the board after the Olympics," Dempsey continued. "With just a seven-week build up you can't really expect too much, but I have trained really hard in that time and it's been a long time away from home.

"I've kept it steady this week and did everything I could, and have ended up having one of the best regattas of my life! My strengths have always been that I can perform across the range of conditions and we've had that this week.

"Maybe going into the event without any real expectations helped me relax a bit, but I'm always pretty relaxed I think. I don't think you can ever expect to be at the front of the fleet all of the time."
Dempsey's long-serving coach Barrie Edgington has been impressed with his protégé.
"It's been a challenging week, but Nick held it together and has been really impressive,

Considering the build up we have had, he's had one of the best week's sailing in the 17 years that I have been working with him, and it bodes really well. It just goes to show that age and experience still count for so much in sailing - that experience has definitely helped Nick make the right decisions this week."
Beijing bronze medallist Bryony Shaw added to the British Sailing Team's joys in Buzios, claiming a silver and her first ever podium spot at an RS:X World Championship.

With the gold medal already assured to Israel's Lee Korsitz ahead of the final race, Shaw trained her sights on preventing an Israeli 1-2. She trailed Maayan Davidovich by three points, going into the final day in the bronze medal position.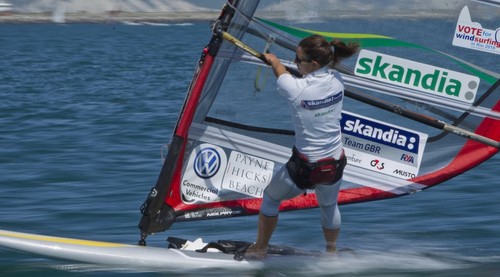 But a determined display saw the British sailor finish fourth in the medal race to Davidovich's ninth and overhaul the Israeli sailor into the silver medal spot.
"I'm really happy to come away with silver, I feel I've been sailing really well, especially for the first two-thirds of the week. I really wanted to close the points on Lee and yesterday was the day to have done that. It was shifty and tactically hard, and she has been sailing phenomenally in all conditions, so all credit to her, she got away!

My Games year didn't work out as I had wanted and it was tough - physically and mentally - so the most important thing for me here is to have had that self-belief grow back inside me again that I do still have it and I can perform on the water.

Since windsurfing had its Olympic reprieve I've just been super-excited to get back on the board again. This week has been really important for me confidence-wise and I've showed a few things this week and am developing some real super-strengths."
For full regatta results, and for the latest news and information from the Skandia Team GBR British Sailing Team visit or follow us on Twitter @BritishSailing.